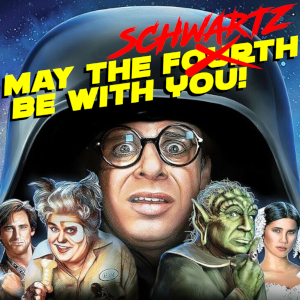 MAY THE FORCE SCHWARTZ BE WITH YOU!
Join us on Spaceballs Day -- May the Schwartz -- for a showing of Mel Brooks's beloved sci-fi parody!
In a distant galaxy, planet Spaceball has depleted its air supply, leaving its citizens reliant on a product called "Perri-Air."
In desperation, Spaceball's leader, President Skroob (Mel Brooks), orders the evil Dark Helmet (Rick Moranis) to kidnap Princess Vespa (Daphne Zuniga) and hold her hostage in exchange for air.
But help arrives for the Princess in the form of renegade space pilot Lone Starr (Bill Pullman) and his half-man, half-dog partner, Barf (John Candy).
Directed by: Mel Brooks
Cast: Mel Brooks, John Candy, Rick Moranis, Bill Pullman, Daphne Zuniga, Joan Rivers
United States | English | 1987 | Sci-fi Comedy | 96 minutes | PG
Masks are recommended but not required.
COVID SAFETY PROTOCOLS CAN BE FOUND HERE.
Film Prices
Lincoln Theatre Members get $2.00 off on the following prices with discount code:
General: $11.00
Seniors, Students, and Active Military: $10.00
Children 12 and under: $8.50
All prices include a $2.00 Preservation Fee that goes directly into our capital account for the preservation of the Lincoln Theatre and its programs.