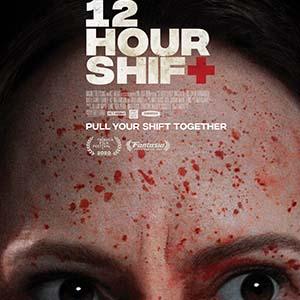 Friday, Oct 2 (All day)

to

Thursday, Oct 22 (All day)
QUARANTINE CINEMA OFFERING
AVAILABLE STARTING OCTOBER 2

Nurse Mandy (Angela Bettis) is desperate to make it through her double shift without incident. This is particularly hard to do when you're an addict and are also involved in a black market organ-trading scheme. When her hapless but dangerous cousin Regina (Chloe Farnworth) messes up a kidney delivery, chaos descends on the Arkansas hospital as Mandy and Regina frantically try to secure a replacement organ through any means necessary. Things grow increasingly complicated when injured convict Jefferson (David Arquette) is brought in, and events spiral even further out of control.
"Sharp, twisted, and darkly funny, 12 Hour Shift is an uncommonly clever heist caper with a refreshing female-focused twist."  - Rotten Tomatoes
Director: Brea Grant
USA | English | 2020 | Mystery And Thriller, Comedy | 88 minutes | NR 
HOW TO WATCH: TELEVISION (via APPLE TV, ROKU, CHROMECAST, or downloaded app on your smart TV) | MOBILE DEVICE (iPhone, iPad, Android) | COMPUTER (by clicking on the streaming link).
For more information on how the rental works:
Click the BUY TICKETS button above to purchase entry to our digital screening room.
Create an account – it's very easy! – and complete your purchase. 
For general help go to our Streaming Information Page HERE.
For any questions regarding streaming, device, connection, or payment issues, reach out directly streaming platform HERE.
For other questions, please feel free to reach out to us at admin@lincolntheatre.org