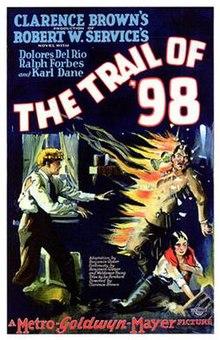 Saturday, Apr 27, 5:00 pm
With generous support from Fred and Eva Beeks the Historic Lincoln Theatre celebrates its 93rd Anniversary with a special screening of Clarence Brown's 1928 thrilling adventure film, The Trail of '98 for a special 1926 opening night price of thirty-five cents!
This innovative, epic account of the Alaskan gold rush follows the lives of many prospectors throughout the movie. One story receives extra attention: a gold miner who finally strikes it rich, suffers terribly to return to his true love, and discovers that she has become a tawdry dance-hall girl. Joe and Jim, brothers from South Carolina; Lars, escaping a shrewish wife in Michigan; a poor farmer from Kansas; weathered prospectors from Nevada; and countless others leave San Francisco by ship. The Bulkys head north to open a restaurant, bringing a poor relative, Berna, along to help. On board Berna meets Larry and falls in love. The overland route to Dawson City is hazardous and arduous. Each person must carry their own food, a ton of it. That means traveling 80 miles back and forth to advance one mile, carrying 50 pounds a trip. The Chilkoot Pass is one of the worst sections of the trail. In the spring the trekkers take to the rivers, swollen by melting ice. Whitehorse Rapids proves the last and biggest obstacle to reaching the gold fields. But that's not the end of the hardships. Claim jumping, blizzards, fires, and Berna's honor at stake are to be faced before striking it rich.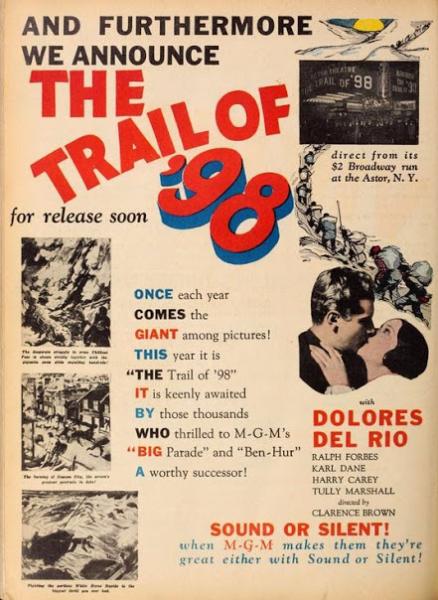 Director Clarence Brown called the film " . . . the hardest film I ever made." He was in charge of 2000 people in weather that was -60 F in 50-mph winds at 11,600-foot altitudes. Four stuntmen were killed while filming the Cooper River rapids scenes. The film also includes one of the earliest scenes on record of a stuntman being engulfed in flames.
Starring Dolores del Río as Berna, Ralph Forbes as Larry, Karl Dane as Lars Petersen, and Harry Carey as Jack Locasto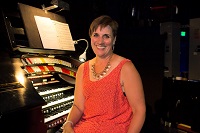 The Silent Film Screening will be accompanied on the Mighty Wurlitzer by Sharon Stearnes! Sharon was staff organist at the Tacoma Pizza & Pipes starting in 1983. She played there for 16 years before the restaurant was lost in a fire in August 1999. Sharon was the organist for the Seattle Mariner's from 1985-1990. She currently plays the organ at the Gig Harbor United Methodist Church.
 
Fred Beeks, Harvey Rossiter, and Nick Nicolai will perform during the pre-show. 
We'll wrap up the evening with Birthday Cake and refreshments.
All of this entertainment for our opening night price of only 35 cents! Arrive early!