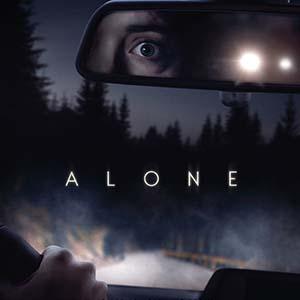 Friday, Sep 18 (All day)

to

Thursday, Oct 8 (All day)
QUARANTINE CINEMA OFFERING
AVAILABLE STARTING SEPTEMBER 18

Jules Willcox (Netflix's Bloodline) stars in ALONE as Jessica, a grief-stricken widow who flees the city in an attempt to cope with the loss of her husband. When Jessica is kidnapped by a mysterious man and locked in a cabin in the Pacific Northwest, she escapes into the wilderness and is pursued by her captor. The key cast includes Marc Menchaca (Ozark, The Outsider) and Anthony Heald (The Silence Of The Lambs).
Currently 100% on Rotten Tomatoes
"A tense, muscular suspense exercise."  - Dennis Harvey, Variety
"A refreshingly plausible approach to the kidnap-survival thriller buoyed by fantastic performances from all involved." - Kat Hughes, THN
Director: Roger Mitchell
USA | English | 2020 | Mystery & Suspense | 98 minutes | NR 
$12 for a 30 day rental window. 
HOW TO WATCH: TELEVISION (via APPLE TV, ROKU, CHROMECAST, or downloaded app on your smart TV) | MOBILE DEVICE (iPhone, iPad, Android) | COMPUTER (by clicking on the streaming link).
For more information on how the rental works:
Click the button above, or follow THIS LINK to purchase entry to our digital screening room.
Create an account – it's very easy! – and complete your purchase. 
For general help go to our Streaming Information Page HERE.
For any questions regarding streaming, device, connection, or payment issues, you will need to reference these links and reach out directly Eventive HERE.
For other questions, please feel free to reach out to us at admin@lincolntheatre.org