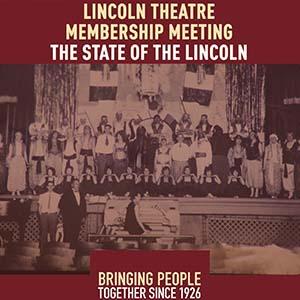 Wednesday, Nov 17, 6:00 pm

Our Annual Member Meeting has been rescheduled due to today's flood warning to Wednesday, November 17, same time, same place. Your film that evening will be the wonderful new Brian Wilson documentary LONG PROMISED ROAD.
All Lincoln Theatre Members in good standing are invited to our annual Membership Meeting: The State of the Lincoln on Monday, November 15 from 6:00 - 7:00 pm. At this meeting, you will get a brief view of our last fiscal year at the Lincoln, where we currently stand financially in the age COVID, our hopes for the future, and a chance to vote on Officers of the Lincoln Theatre Center Foundation for the current year. Come early for an informal social time with pizza and beverages from 5:30 - 6:00pm to meet with our staff and Board of Directors for a tour of our front-of-house renovations and to share your ideas and concerns. All members in attendance are invited to stay for the evening's film, DUNE, for free.