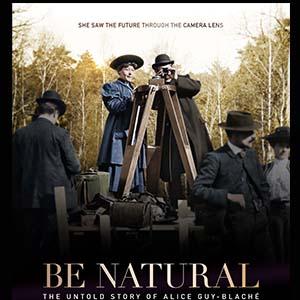 Wednesday, Jul 22 (All day)

to

Thursday, Aug 13 (All day)
QUARANTINE CINEMA OFFERING
AVAILABLE STARTING JULY 22

When Alice Guy-Blaché completed her first film in 1896 Paris, she was not only the first female filmmaker, but one of the first directors ever to make a narrative film. Be Natural: The Untold Story of Alice Guy-Blaché follows her rise from Gaumont secretary to her appointment as head of production a year later, and her subsequent illustrious 20-year career in France and in the United States, as the founder of her own studio and as writer, director, and/or producer of 1,000 films—after which she was veritably erased from history. Until now…. 
Director: Pamela B. Green
Narrated by Jodie Foster
Notables interviewed: John Bailey, Lake Bell, Jon M. Chu, Diablo Cody, Geena Davis, Julie Delpy, Ava DuVernay, Michel
Hazanavicius, Patty Jenkins, Ben Kingsley, Walter Murch, Andy Samberg, Marjane Satrapi, Julie Taymor, Agnès Varda, Evan Rachel Wood - to name a few.
"When Pamela Green first talked to me about Alice Guy Blaché I thought, 'how is it possible that I've never heard of her?' One of the great pioneers of our industry who created films alongside the Lumière Brothers, Léon Gaumont, Georges Méliès… As fas as we know, she is the first female film director, possibly one of the first narrative filmmakers EVER. A writer, producer, studio head, with a 1000 films under her belt…The facts in this documentary blew my mind. It's an honour to voice this story. May Alice's story finally set the record straight and restore her place in cinema history."- Jodie Foster, Actress, Director, Producer
USA | English and French | 2020 | Documentary, Detective Story, Biopic | 103 minutes | NR
$9.99 for a 7-day rental period. 
50% of your ticket purchase directly supports the Lincoln Theatre, while the remainder support independent filmmaking & distribution.
HOW TO WATCH: TELEVISION (via the the downloaded APPLE TV or ANDROID app, or CHROMECAST) MOBILE DEVICE (iPhone, iPad, Android) | COMPUTER (by clicking on the link below).
For more information on how the rental works:
Click the button above, or follow THIS LINK to purchase entry to our digital screening room.
Create an account – it's very easy! – and complete your purchase. You can pay with PayPal or your Credit/Debit card. 
You will be sent a password and link via email to watch the film.
For any questions regarding streaming, device, connection, or payment issues, help can be found HERE.
For non-streaming questions, please feel free to reach out to us at admin@lincolntheatre.org