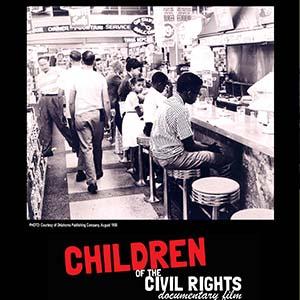 Wednesday, Jul 22 (All day)

to

Thursday, Aug 13 (All day)
No one knew that a group of Oklahoma City kids were heroes. ... Not even the kids themselves.
CHILDREN OF THE CIVIL RIGHTS DOCUMENTARY FILM
This timely film is being offered free to stream on Vimeo with optional donations in support of the LIncoln Theatre courtesy of the director.  Password: civil1958


For six years, a group of kids went into restaurants and asked for service. It never got violent, it never made national news but these kids desegregated every restaurant in Oklahoma City except one before the 1964 Civil Rights Act was made into law. Children of the Civil Rights documentary film shares their six year odyssey to freedom. This is a story about the strength of the young.
Directed by Julia Clifford
USA | English | Documentary |  2015 | 57 minutes | NR
In 2004, film director Julia Clifford began exploring the art of filmmaking as a student of Northwest Film School. Julia performed a myriad of roles from key grip, script writing, storyboard development, set design, animation to the assistant director and editor of film shorts. Her debut as director was the award winning documentary film "Children of the Civil Rights", which has been picked up by libraries, schools, indie theaters and most recently, PBS stations across the country. Her co-producer Bob Ridgley of Binary Recording Studio was Director of Photography and Editor. Julia is currently working on her next documentary film with Bob called "The Great Experiment," which is about the evolution of democracy beginning with the Iroquois Nation. (Target Release: 2023)
More Info: cliffordcreations.com childrenofthecivilrightsfilm.com