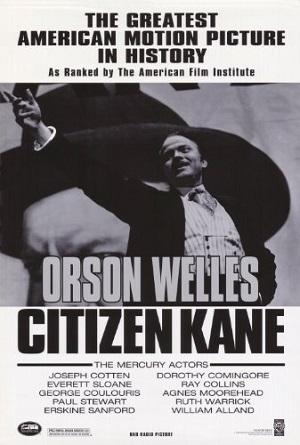 Saturday, Aug 19, 7:30 pm
Rosebud...
Our Spectacular, Spectacular Film Series of Visually Stunning Films continues with Citizen Kane (1941) with an introduction by Film Director Mel Damski.
The fresh, sophisticated, and classic masterpiece, is probably the world's most famous and highly-rated film, with its many remarkable scenes and performances, cinematic and narrative techniques and experimental innovations (in photography, editing, and sound). Its director, star, and producer were all the same genius individual - Orson Welles (in his film debut at age 25!), who collaborated with Herman J. Mankiewicz on the script (and also with an uncredited John Houseman), and with Gregg Toland as his talented cinematographer.
When a reporter is assigned to decipher newspaper magnate Charles Foster Kane's dying words, his investigation gradually reveals the fascinating portrait of a complex man who rose from obscurity to staggering heights. Though Kane's friend and colleague Jedediah Leland, and his mistress, Susan Alexander, shed fragments of light on Kane's life, the reporter fears he may never penetrate the mystery of the elusive man's final word, "Rosebud." 
Director: Orson Welles
Starring: Orson Welles, Dorothy Comingore, Joseph Cotten, Everett Sloane, George Coulouris, and Agnes Moorehead.
Certified Fresh on Rotten Tomatoes (100%)
"Orson Welles's epic tale of a publishing tycoon's rise and fall is entertaining, poignant, and inventive in its storytelling, earning its reputation as a landmark achievement in film."
Richard Brody | New Yorker
"An ecstasy of light and shadow, of clashing textures and graphic forms, such as hadn't been seen since the silent era."
CA Lejeune | Observer UK
"Citizen Kane, written, produced, directed and played by Orson Welles, is probably the most exciting film that has come out of Hollywood for twenty-five years. I am not at all sure that it isn't the most exciting film that ever came out of anywhere."
Film Prices:
Lincoln Theatre Members get a $2 discount on the following prices:
General: $10.50
Seniors, Students and Active Military: $9.50
Children 12 and under: $8.00
*All prices include a $1.50 Preservation Fee that goes directly into our capital account for preservation of the Lincoln Theatre and its programs.
 
Members have benefits: Click here for details.
 
Film dates and times are subject to change and extended runs. Please check back here, or our phone message at 360.336.8955, day of show.