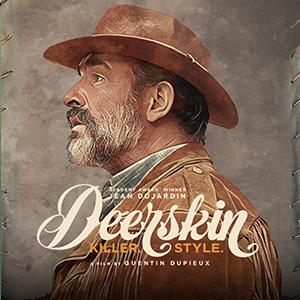 Friday, May 22 (All day)

to

Thursday, Jun 11 (All day)
VIRTUAL CINEMA OFFERING
OPENS FRIDAY MAY 22

In this black comedy of middle-aged masculinity gone awry, Academy Award winner Jean Dujardin (The Artist) is a recent divorcee who becomes obsessed with a vintage fringed deerskin jacket that begins to exert an uncanny hold on him. Set in a sleepy French alpine village, he falls into the guise of an independent filmmaker and befriends a trusting bartender and aspiring editor (Adèle Haenel, Portrait of a Lady on Fire) who becomes his collaborator on a movie that will document a surprising new goal he sets himself.
"Led by a daring performance from Jean Dujardin, Deerskin finds writer-director Quentin Dupieux working in a more accessible -- yet still distinctive -- vein."  - Certified Fresh on Rotten Tomatoes
Director: Elizabeth Carroll
French with English Subtitles | 2020 | Comedy | 77 minutes | NR 
$9.99 for a seven day rental period.
With each screening of Deerskin purchased, the Lincoln Theatre will receive 50% of the ticket price and the distributors and filmmakers receive the other 50%. Thank you for supporting the Lincoln!.
HOW TO WATCH: TELEVISION (via the the downloaded APPLE TV or ANDROID app, or CHROMECAST) MOBILE DEVICE (iPhone, iPad, Android) | COMPUTER (by clicking on the link below).
For more information on how the rental works:
Click the button above, or follow THIS LINK to purchase entry to our digital screening room for Deerskin offered on Greenwich Entertainment's secure virtual screening room created just for patrons of the Lincoln Theatre.
Create an account – it's very easy! – and complete your purchase.
Watch as much as you like for seven days!
For any questions regarding streaming, device, connection, or payment issues, you will need to reference these links and reach out directly Vimeo here.
For non-streaming questions, please feel free to reach out to us at admin@lincolntheatre.org