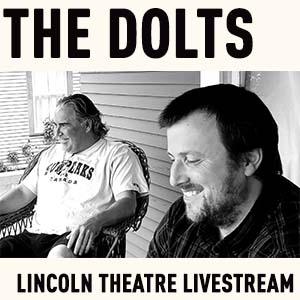 Saturday, Mar 13, 7:30 pm


The Stream goes Live at 7:00pm with a 30 minute slide show. The concert starts at 7:30pm.
The Dolts are a rock duo from Western Washington area consisting of Andy Dolt on drums and Johnny Dolt on guitar and vocals. Stripped down raw rock approach to music The Dolts take inspiration from Frank Zappa, Violent Femmes, The Who, Ween and Tom Waits. Relying on emotionally fueled lyrics and playing a mix of garage rock, funk, punk, and singer songwriter. With Andy providing pounding drums and Johnny playing an octave guitar The Dolts put on a visual, raw show.Lyrics that deal with depression, desperation, self-loathing, and failed dealings with the opposite sex, The Dolts create songs with unconventional catchy hooks and lyrics while using barebones instrumentation
The Story of The Dolts began in 2014 when Andrew Culp and John Bisagna joined an Anacortes band called "Bachelor Number 4". For the next few years they played hundreds of shows together until, wanting to explore different sounds, in 2017 they formed a side project "The John Bisagna Disaster" also adding a third member on harmonica. The John Bisagna Disaster got a lucky break and in early 2020 they found themselves being the support act for the Violent Femmes on a handful of northwest shows. By late 2020 the harmonica player left to pursue other ventures. Andrew and John decided to change the name of the band to The Dolts as well as take on the monikers of Andy and Johnny Dolt as a nod to bands like The Ramones and Ween.
In December 2020 The Dolts released their first Album "I". Album "II" followed quickly in February 2021.
Support for the series comes from Margaret and Allen Bird, and Cindi and Steve Olszewski, Mr. Don Wick, Dimensional Communications, Logan Creek and JRivera & Associates. A big thank you to to Colby and Brett from Dimensional Communications for their technical assistance. Virtual Portrait Support: Wendy and Roger Ragusa, Susan Wilson and Eric Hall, Duncan West and Mary Deaton, Peggy Sue Erickson, Roger Gietzen.
The concerts will be streamed on our Youtube channel by donation. Proceeds will be split 50/50 between the performers and the Lincoln Theatre Center Foundation.
Artists: Are you ready to get back on stage? Please email roger@lincolntheatre.org if you are interested in being a part of this series.
Sponsors: Would you like to help offset crew and licensing costs? Low cost sponsorships are available. Click HERE for a PDF to the sponsor agreement. Please email roger@lincolntheatre.org for more information.