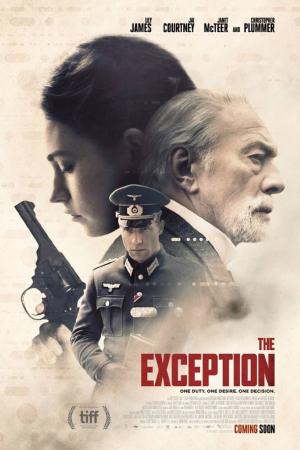 Saturday, Jul 22, 5:00 pm
Running Time: 107 minutes
A riveting World War II thriller that is filled with espionage and romance in equal measure, The Exception follows German soldier Stefan Brandt (Jai Courtney) as he goes on a mission to investigate exiled German Monarch Kaiser Wilhelm II (Christopher Plummer). The Kaiser lives in a secluded mansion in The Netherlands, and as Germany is taking over Holland, the country's authorities are concerned that Dutch spies may be watching the Kaiser. As Brandt begins to infiltrate the Kaiser's life in search of clues, he finds himself drawn into an unexpected and passionate romance with Mieke (Lily James), one of the Kaiser's maids whom Brandt soon discovers is secretly Jewish. When Heinrich Himmler (Eddie Marsan), Head of the SS, decides to come for an unexpected visit with a large platoon of Nazis in tow, the stage is set for a breathtaking showdown, as secrets are revealed, allegiances are tested, and Brandt is forced to make the ultimate choice between honoring his country and following his heart.
Director: David Leveaux
Starring: Lily James, Jai Courtney, Eddie Marsan, Christopher Plummer, Janet McTeer, and Ben Daniels.
What the Critics are saying:
Peter Debruge | Variety
"Elegant, well-acted and a good deal sexier than the material might suggest."
James Verniere | Boston Herald
"Courtney and James shine as Romeo and Juliet style lover in WWII espionage romance."
John Urbancich | Cleveland.com
"Grand acting carries "The Exception" through some nifty little World War II thrills from British director David Leveaux."
Film Prices:
Lincoln Theatre Members get a $2 discount on the following prices:
General: $10.50
Seniors, Students and Active Military: $9.50
Children 12 and under: $8.00
Sunday Bargain Prices:
General: $9.00
Children 12 and under: $7.50
Add $2.00 to the above prices for 3D screenings
*All prices include a $1.50 Preservation Fee that goes directly into our capital account for preservation of the Lincoln Theatre and its programs.
Members have benefits: Click here for details.
Film dates and times are subject to change and extended runs. Please check back here, or our phone message at 360.336.8955, day of shofo coming soon!