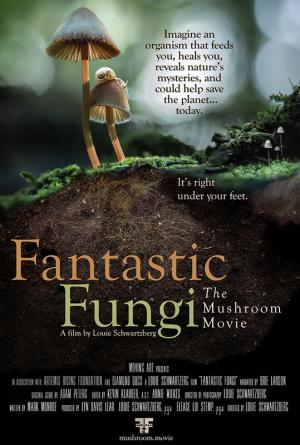 Wednesday, Apr 15 (All day)

to

Thursday, May 28 (All day)
VIRTUAL CINEMA OFFERING
NOW PLAYING

Help support the Lincoln Theatre through this unique partnership with Area 23a and Vimeo!
When so many are struggling for connection, inspiration and hope, Fantastic Fungi brings us together as interconnected creators of our world.
Fantastic Fungi, directed by Louie Schwartzberg, is a consciousness-shifting film that takes us on an immersive journey through time and scale into the magical earth beneath our feet, an underground network that can heal and save our planet. Through the eyes of renowned scientists and mycologists like Paul Stamets, best-selling authors Michael Pollan, Eugenia Bone, Andrew Weil and others, we become aware of the beauty, intelligence and solutions the fungi kingdom offers us in response to some of our most pressing medical, therapeutic, and environmental challenges.
Director: Louie Schwartzberg
Writer: Mark Monroe
Narrated by Brie Larson
Producer: Louie Schwartzberg, Lyn Davis Lear, Elease Lui Stemp
Cast: Paul Stamets, Michael Pollan, Andrew Weil, Eugenia Bone
"Fantastic Fungi," offers nothing less than a model for planetary survival."~ Jeannette Catsoulis, The New York Times
"Gorgeous photography! Time-lapse sequences of mushrooms blossoming forth could pass for studies of exotic flowers growing on another planet." 
"Schwartzberg's film quickly proves to be one of the year's most mind-blowing, soul-cleansing and yes, immensely entertaining triumphs."Matt Fagerholm, RogerEbert.com
"A must see for anyone interested in life, death and the pursuit of the planet's well-being." ~ David Carpenter, Forbes
Romanian, English, Spanish | 2020 | Documentary | 81 minutes | NR $4.99 for a 48 hour rental period.
VIRTUAL GATHERING on FUNGI DAY! 
On April 21st, as we prepare to celebrate our good earth, and all of our efforts to sustain it, we invite you to discover the magic beneath us on Fungi Day.
The global mycelium network reconnects for a virtual gathering as the Fantastic Fungi team hosts a full day of conversations with Director Louie Schwartzberg, mycologist Paul Stamets, and many special guests including researchers, educators and solutionaries responding to some of our planet's most pressing environmental and global challenges.
Participation in the virtual gathering is FREE! Just register today at fantasticfungi.com and we'll send you a link to join the conversation via the platform of your choice.
With each screening of Fantastic Fungi purchased, the Lincoln Theatre will receive 50% of the ticket price and the distributors and filmmakers receive the other 50%. Thank you for supporting the Lincoln!.
HOW TO WATCH: TELEVISION (via the the downloaded APPLE TV (4th Generation) or GOOGLE CHROMECAST app, Android TV, Amazon Fire TV, Samsung TVs) MOBILE DEVICE (iPhone, iPad, Android) | COMPUTER (by clicking on the link below). For more information on how the rental works:
Click the button above, or follow THIS LINK to purchase entry to our digital screening room for Fantastic Fungi for only $4.99 on Area 23a's secure virtual screening room created just for patrons of the Lincoln Theatre.
Create an account – it's very easy! – and complete your purchase.
Watch as much as you like for 48 hours!
For any questions regarding streaming, device, connection, or payment issues, you will need to reference these links and reach out directly Area 23a and Vimeo here.
For non-streaming questions, please feel free to reach out to us at admin@lincolntheatre.org