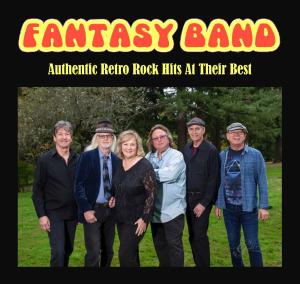 Saturday, Nov 21, 7:30 pm


DUE TO NEW COVID RESTRICTIONS THIS SHOW WILL BE RESCHEDULED: NEW DATE TBD
The Fantasy Band is an entertaining 6-piece rock/pop band from Skagit Valley performing a deep dive into classic rock dance, ballad and concert songs. Tight arrangements and exemplary vocal harmonies, complement the multi-instrumental talent of the band. They have been a popular fixture in the local music scene since the '70's.
Enjoy a great Fantasy Band show streamed live from our historic stage as they play tunes you remember from the days of FM radio while attracting listeners of all ages to the unique musical styles of the classic rock era.
You will want to turn this one up!
Support for the series comes from Mr. Don Wick, Dimensional Communications, Logan Creek and JRivera & Associates. A big thank you to to Colby and Brett from Dimensional Communications for their technical assistance. Virtual Portrait Support: Wendy and Roger Ragusa, Susan Wilson and Eric Hall, Duncan West and Mary Deaton.
The concerts will be streamed free on Youtube with donations accepted. Proceeds will be split 50/50 between the performers and the Lincoln Theatre Center Foundation.
Artists: Are you ready to get back on stage? Please email roger@lincolntheatre.org if you are interested in being a part of this series.
Sponsors: Would you like to help offset crew and licensing costs? Low cost sponsorships are available. Cilck HERE for a PDF to the sponsor agreement. Please email roger@lincolntheatre.org for more information.