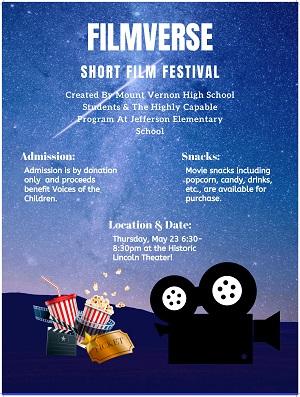 Thursday, May 23, 6:30 pm
Short films created by Mount Vernon High School students, FilmVerse explores concepts of community using narratives written by youth in Skagit County Juvenile Detention.  Additionally, 4th and 5th grade students in the Highly Capable Program at Jefferson Elementary have their own short films! From script-writing to musical production, acting, filming, and editing, these students have built their films from the ground up and are sharing their stories of issues faced in their young lives!
A collaboration with the Mount Vernon School District, Voices of the Children and Underground Writing,  FilmVerse challenges the viewer to open their heart with love and compassion to all members of our community and validate the voices of our youth.
Admission by donation only - proceeds benefit Voices of the Children.