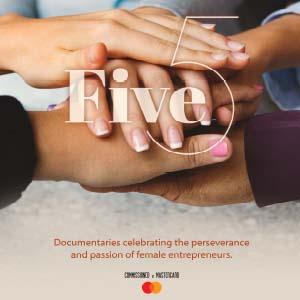 Monday, Mar 8 (All day)

to

Monday, Apr 5 (All day)
QUARANTINE CINEMA OFFERING
AVAILABLE STARTING MARCH 8 - INTERNATIONAL WOMEN'S DAY

TICKET LINK GOES LIVE MARCH 8!
A documentary film short series about the perseverance and passion of female entrepreneurs.
The "FIVE" films – HARFA, JUSTICE OF THE PIES, ONGANIC FOODS, SARAH'S BAG, and TALENTO INCLUIR – follow five extraordinary women from five countries across the globe who have each set out to start a purpose-driven business to improve and uplift their communities. Witness their journey through food insecurity and sustainable farming to special education and diversity and inclusion in the workplace.
Commissioned by Mastercard. Distributed by ShortsTV
USA, Croatia, India, Lebanon, Brazil | English | 2020 | Documentary  | NR 
Virtual Tickets: $4.99. 50% of the proceeds support the Lincoln Theatre!
Renting a virtual film through the Lincoln is a great opportunity for patrons to show their support for us during quarantine. Many of the virtural films are available to send as gifts.
HOW TO WATCH: TELEVISION (via APPLE TV, ROKU, CHROMECAST, or downloaded app on your smart TV) | MOBILE DEVICE (iPhone, iPad, Android) | COMPUTER (by clicking on the streaming link).
For more information on how the rental works:
Click the BUY TICKETS button above to purchase entry to our digital screening room.
Create an account – it's very easy! – and complete your purchase. 
For general help go to our Streaming Information Page HERE.
For any questions regarding streaming, device, connection, or payment issues, reach out directly streaming platform HERE.
For other questions, please feel free to reach out to us at admin@lincolntheatre.org