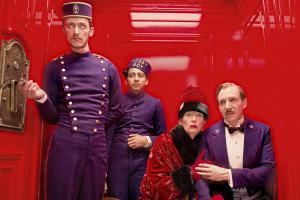 Saturday, Jul 22, 7:30 pm
The Grand Budapest Hotel is the fourth installment in our series of films meant to be seen on a big screen and is sponsored by Jeff McInnis and Amanda Wilson.
The Grand Budapest Hotel recounts the adventures of M. Gustave, a legendary concierge at a famous European hotel between the wars, and Zero Moustafa, the lobby boy who becomes his most trusted friend. The story involves the theft and recovery of a priceless Renaissance painting and the battle for an enormous family fortune—all against the back-drop of a suddenly and dramatically changing continent.
Director: Wes Anderson
Starring: Adrien Brody, Bill Murray, Edward Norton, F. Murray Abraham, Harvey Keitel, Jeff Goldblum, Jude Law, Léa Seydoux, Mathieu Amalric, Ralph Fiennes, Saoirse Ronan, Willem Dafoe  
What the critics say:
McClatchy-Tribune News Service | Roger Moore
We should all be so lucky as to live in a world designed, peopled and manipulated by Wes Anderson. His latest film, The Grand Budapest Hotel, is a dark, daft and deft triumph of design details.  
The Globe and Mail (Toronto) | Liam Lacey
From the start, it's clear Anderson is working with a new sophistication both in the vocabulary and structure of the film's voiceover narrations. 
CineVue | Ben Nicholson
Despite being one of his most ostentatious films to date, the setting, plot, performances and authorial tone on display marry together seamlessly to simultaneously heighten and smooth his trademark style.  
RogerEbert.com | Glenn Kenny
Anderson the illusion-maker is more than graceful, he's dazzling, and with this movie he's created an art-refuge that consoles and commiserates. It's an illusion, but it's not a lie.  
The New York Times | A.O. Scott
The Grand Budapest Hotel, Mr. Anderson's eighth feature, will delight his fans, but even those inclined to grumble that it's just more of the same patented whimsy might want to look again. As a sometime grumbler and longtime fan, I found myself not only charmed and touched but also moved to a new level of respect.  
Lincoln Theatre Members get a $2 discount on the following prices:
General: $10.50
Seniors, Students and Active Military: $9.50
Children 12 and under: $8.00
Members have benefits: Click here http://www.lincolntheatre.org/benefits-membership for details.
 
Film dates and times are subject to change and extended runs. Please check back here, or our phone message at 360.336.8955, day of show.