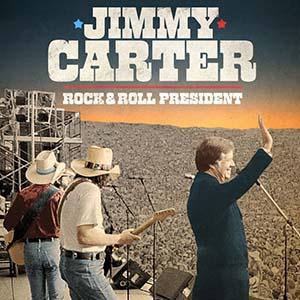 Friday, Nov 6 (All day)

to

Thursday, Jan 7 (All day)
QUARANTINE CINEMA OFFERING
AVAILABLE STARTING NOVEMBER 6

If it hadn't been for a bottle of scotch and a late-night visit from musician Gregg Allman, Jimmy Carter might never have been elected the 39th President of the United States. The documentary charts the mostly forgotten story of how Carter, a lover of all types of music, forged a tight bond with musicians Willie Nelson, the Allman Brothers, Bob Dylan and others. Low on campaign funds and lacking in name recognition, Carter relied on support from these artists to give him a crucial boost in the Democratic primaries. Once Carter was elected, the musicians became frequent guests in the White House. The surprisingly significant role that music played throughout Carter's life and in his work becomes a thread in this engaging portrait of one of the most enigmatic Presidents in American history.
"Rock & Roll President" is a potent and poignant reminder of how some things used to be and may never be again."​  - Glenn Kenny, New York Times
Director: Mary Wharton
Featuring: Jimmy Carter, Madeleine Albright, Bono Garth Brooks, Jimmy Buffett, Chip Carter, Rosanne Cash, Bishop Michael Curry , Bob Dylan, Chuck Leavell, Willie Nelson, Nile Rodgers, Paul Simon, Trisha Yearwood, Andrew Young
USA | English | 2020 | Music, Documentary | 95 minutes | NR 
Virtual Tickets: $4.99. 50% of the proceeds support the Lincoln Theatre!
HOW TO WATCH: TELEVISION (via APPLE TV, ROKU, CHROMECAST, or downloaded app on your smart TV) | MOBILE DEVICE (iPhone, iPad, Android) | COMPUTER (by clicking on the streaming link).
For more information on how the rental works:
Click the BUY TICKETS button above to purchase entry to our digital screening room.
Create an account – it's very easy! – and complete your purchase. 
For general help go to our Streaming Information Page HERE.
For any questions regarding streaming, device, connection, or payment issues, reach out directly streaming platform HERE.
For other questions, please feel free to reach out to us at admin@lincolntheatre.org