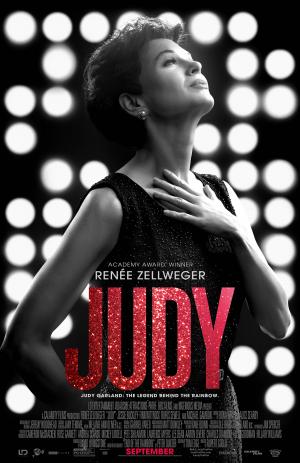 Featuring recent Golden Globe Winner Renèe Zellweger, Judy opens this Friday.
Winter 1968 and showbiz legend Judy Garland arrives in Swinging London to perform a five-week sold-out run at The Talk of the Town. It is 30 years since she shot to global stardom in The Wizard of Oz, but if her voice has weakened, its dramatic intensity has only grown. As she prepares for the show, battles with management, charms musicians and reminisces with friends and adoring fans, her wit and warmth shine through. Even her dreams of love seem undimmed as she embarks on a whirlwind romance with Mickey Deans, her soon-to-be fifth husband. Featuring some of her best-known songs, the film celebrates the voice, the capacity for love, and the sheer pizzazz of "the world's greatest entertainer."
Director: Rupert Goold
Starring: Renèe Zellweger, Jessie Buckley, Fin Wittrock, Rufus Sewell, Michael Gambon
Language: English
"Zellweger has one of the most memorable roles of her career playing the adult Garland." - Allison Rose, FlickDirect
"Being back with Judy-even if it isn't the "real" Judy- is like coming back home from a long, exhausting trip. It's a reminder that there's no place like home, and no one like Garland." - Asher Luberto, LA Weekly
"'Judy' is just such a sturdy, dependable vehicle which, in this case, carries the precious cargo of Renée Zellweger in a dazzling portrayal of Judy Garland at the end of her life." - Anny Hornaday, Washington Post
Film Prices:
Lincoln Theatre Members get a $2 discount on the following prices:
General: $11.00
Seniors, Students and Active Military: $10.00
Children 12 and under: $8.50
Sunday Bargain Prices:
General: $9.50
Children 12 and under: $8.00
Add $2.00 to the above prices for 3D screenings
All prices include a $2.00 Preservation Fee that goes directly into our capital account for preservation of the Lincoln Theatre and its programs. 
 
Members have benefits: Click here for details