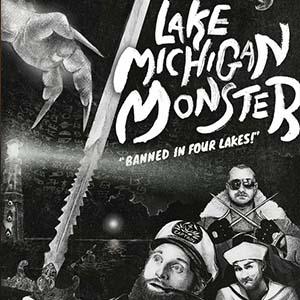 VIRTUAL MIDNIGHT CINEMA OFFERING
ONE DAY SCREENING ONLY - JULY 31
Pre-order today and join Arrow Video for a special 24hr ONLY virtual event screening of LAKE MICHIGAN MONSTER on JULY 31st. Includes an exclusive Q&A with cast & crew hosted by Milwaukee Film.

Who lives in the murky abyss, deep in the sea? LAKE MICHIGAN MONSTER!
Hellish and scary and beastly is he! LAKE MICHIGAN MONSTER!
If nautical nightmares be something you wish! LAKE MICHIGAN MONSTER!
Then grab a ticket before they vanish! LAKE MICHIGAN MONSTER! 
Forget about the Yeti, the Chupacabra or the Loch Ness Monster! Tremble! Be fearful! You are about to come face to face with the most mysterious, the most dangerous, the most deadliest of all: LAKE MICHIGAN MONSTER! Somewhere in Milwaukee, eccentric Captain Seafield (Ryland Brickson Cole Tews) assembles the "team of the century", a group of maritime (sort of) specialists, to help him locate the sea monster that killed his father, and annihilate it. It'll take a couple (a lot) of attempts, but the captain is determined to get his revenge.
What if SpongeBob had been directed by Canadian experimental master Guy Maddin? The answer lies with director Ryland Brickson Cole Tews and his microbudget creature feature. Made with great inventiveness and a love for '50s B-movies and monster flicks, LAKE MICHIGAN MONSTER is everything indie cinema should be and more. With a gritty black-and-white photography, special effects galore, hand-crafted sets and costumes, and hallucinatory scenes, Tews pulls off a debut feature that's as DYI as it is entertaining. The fun! LAKE MICHIGAN MONSTER is full of it! So … what do you say? Are you ready, kids? 
Directed by Ryland Brickson Cole
"Grab a bottle of rum (or two), gather together some of your idiot friends, cast off your high-brow cinematic pretensions, and cue up this 78 minutes of nonsensical nautical mayhem." – Joshua Speiser, Film Threat
"The entire budget would barely pay for one of Captain America's boots, but that doesn't stop the Milwaukee-made horror comedy Lake Michigan Monster from delivering more crazy and clever visual tricks than the last 10 Marvel superhero blockbusters put together." - Detroit Free Press
USA | English  | 2018 | Adventure, Comedy, Fantasy, Horror, Mystery | 78 minutes | NR
$10 for a 24 hour rental period on July 31 only. 50% of your ticket purchase directly supports the Lincoln Theatre, while the remainder support independent filmmaking & distribution.
HOW TO WATCH: TELEVISION (via the the downloaded APPLE TV or ANDROID app, or CHROMECAST) MOBILE DEVICE (iPhone, iPad, Android) | COMPUTER (by clicking on the link below).
For more information on how the rental works:
Click the button above, or follow THIS LINK to purchase entry to our digital screening room.
Create an account – it's very easy! – and complete your purchase, you can also gift a screening to a friend of family member.
Watch as much as you like for 48 hours!
For any questions regarding streaming, device, connection, or payment issues, the distributors can help you here.
For non-streaming questions, please feel free to reach out to us at admin@lincolntheatre.org