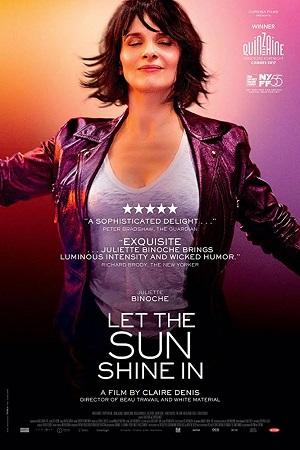 Juliette Binoche delivers a luminous performance in the deliciously witty, sensuously romantic new film from acclaimed director Claire Denis. Isabelle is a divorced Parisian painter searching for another shot at love, but refusing to settle for the parade of all-too-flawed men who drift in and out of her life. There's a caddish banker who, like many of her lovers, happens to be married; a handsome actor who's working through his own hang-ups; and a sensitive fellow artist who's skittish about commitment. What reads like a standard romantic comedy premise is transformed, in the hands of master filmmaker Denis, into something altogether deeper, more poignant, and perceptive about the profound mysteries of love.
Directed By: Claire Denis
Cast: Juliette Binoche, Gerard Depardieu, Valeria Bruni Tedeschi, Nicolas Duvanuchelle, Josiane Balasko, and Clair Tran.
Language: French with English Subtitles
What the critics are saying:
"Let the Sunshine In pairs a powerful performance from Juliette Binoche with a layered drama that presents director Claire Denis at her most assured." - Certified Fresh on Rotten Tomatoes
"Tilt it one way, and "Let the Sunshine In" becomes a dramatic portrait of a woman's sensual restlessness. Tilted the other way, it's a bittersweet romantic comedy." - Michael Phillips, Chicago Tribune
"It's Binoche, here delivering one of her finest and most subtly calibrated performances, who imbues Isabelle with the heart and earthy eroticism that makes her far more appealing, even heroic, than the pathetic figure she might have been." - Ann Hornaday, Washington Post
 
Film Prices:
Lincoln Theatre Members get a $2 discount on the following prices:
General: $10.50
Seniors, Students and Active Military: $9.50
Children 12 and under: $8.00
Sunday Bargain Prices:
General: $9.00
Children 12 and under: $7.50
Add $2.00 to the above prices for 3D screenings
All prices include a $1.50 Preservation Fee that goes directly into our capital account for preservation of the Lincoln Theatre and its programs. 
 
Members have benefits: Click here for details