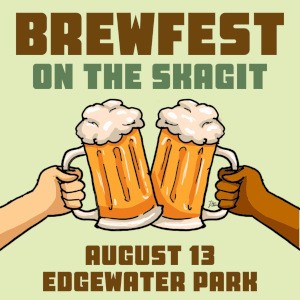 Saturday, Aug 13,

3:00 pm

to

8:30 pm
WE'RE BACK!!!
Our 20th annual BrewFest on the Skagit, the Skagit's longest running Craft Brew Festival, is set for Saturday, August 13th from 3:00 to 8:30pm at Edgewater Park along the banks of the Skagit River in Mount Vernon. This year's BrewFest will feature dozens of local craft brews, three of the regions most popular bands, leisure games, tie-die courtesy of Tri-Dee Arts, vendors, and local food trucks.
This will be our biggest and best BrewFest ever! Moving the event from Skagit Riverwalk Park to Edgewater Park has given us more room to move and groove.
A special addition to the Festival Leisure Games this year will once again be a cornhole tournament hosted by Upper Left Cornhole! To register yourself or your team for the tournament CLICK HERE or contact Eric at upperleftcornhole@gmail.com for more information. Upper bracket winner: 1st place cash win $250. Lower bracket winners: gift cards. Cornhole players get early 2:00pm entry.
Interested in Volunteering? Contact Brandy via brandy@lincolntheatre.org. We need Volunteers for set-up, day of event, and tear down. Volunteers get tshirts and other hospitality. We'll need more than ever this year! 
Sponsors make this event happen. Interested in supporting our largest BrewFest yet? Click here for our Sponsor Form HERE or contact Damond via damond@lincolntheatre.org.

Advance Tickets: $30 Adult; $50 VIP Section; $15 "Designated Driver" (includes no beer scrip) + applicable fees. All prices additional $10 at gate. Lincoln Theatre Members received $2 off all ticket tiers.
Music:
High energy PNW Rock n Roll celebrating their second full length album "Front Porch".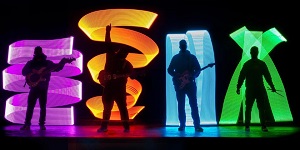 Fanny Alger is proud to be your favorite for-profit-salvation-company.
A 10-piece powerhouse of highly experienced and talented musicians, Baby Cakes takes their audiences on a luxurious joyride through the golden age of American Soul, funk, and R&B.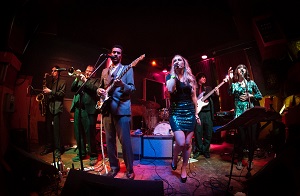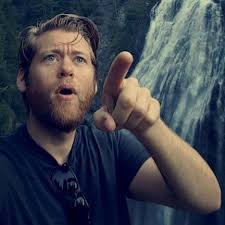 List of Brewers Confirmed:​
Food Vendors:
Sponsors:
Pony Sponsor

Growler Sponsors
Bottle Sponsor
Supporters
Raffle Items Provided By: 
We're working on it.
This event is our most consistent yearly fundraiser, so please bring your friends to soak up the sun, drink beer, and support the Lincoln! 
Brewfest on the Skagit is a 21 and over event! ID required.
Bring a lawn chair or blanket, sunscreen and bug spray!
Interested in making it a weekend in Skagit Valley? Accommodations are available HERE.
We love dogs but please no pets except for service animals.
And special thanks to our downtown neighbors for their support of this annual community event!
Barrel Sponsor $2500
Logo on souvenir beer tasting glasses
Your banner on the BrewFest stage
10 x 10 Sponsor booth
Logo placement on event print promotion materials distributed regionally
Logo in official BrewFest event brochure
Logo and Click-Through link on Lincoln Theatre website and social media
Special recognition from the main stage
Marketing Mentions on Radio Advertising
On-screen recognition: 1 year
8 complimentary tickets to BrewFest on the SkagitKeg Sponsor
Keg Sponsor $1500
Your banner displayed in Brewers area
10 x 10 Sponsor booth
Logo placement on event print promotion materials
Logo in official BrewFest event brochure
Logo on Lincoln Theatre website and social media
On-screen recognition: 1 year
6 complimentary tickets to BrewFest on the Skagit
Pony Sponsor $1000
Your banner displayed in Brewers area
Logo placement on event print promotion materials
Logo in official BrewFest event brochure
Logo on Lincoln Theatre website and social media
On screen recognition: 1 year
4 complimentary tickets to BrewFest on the Skagit
Growler Sponsor $500
Logo placement on event print promotion materials
Logo in official BrewFest event brochure
Logo on Lincoln Theatre website and social media
Special recognition from the main stage
On screen recognition: 6 months
4 complimentary tickets to BrewFest on the Skagit
Bottle Sponsor $250
Logo in official BrewFest event brochure
Logo on Lincoln Theatre website and social media
On screen recognition: 1 month
2 complimentary tickets to BrewFest on the Skagit