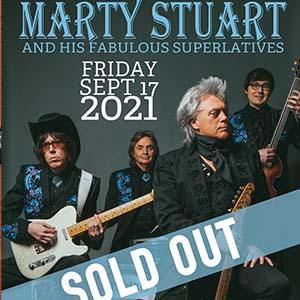 NEW DATE CONFIRMED FOR 2021: SEPTEMBER 17, 2021. THIS SHOW HAS BEEN RESCEDULED FROM APRIL 15. ALL TICKETS TO THE APRIL 15 PERFORMANCE WILL BE HONORED. OUR BOX OFFICE WILL CONTACT YOU WITH FURTHER INFORMATION!
The Historic Lincoln Theatre welcomes country music torchbearer Marty Stuart as he celebrates the twentieth anniversary of his iconic album The Pilgrim.  While he's too gracious to admit it himself, the GRAMMY Award-winning singer, songwriter, and musician is living, breathing country music history. Join Marty Stuart as he shares through story and song his remarkable life.
With legends like George Jones, Johnny Cash and Merle Haggard all passed on, country music purists often echo the question Jones himself asked: "Who's going to fill their shoes?" The answer, in part, is Marty Stuart.
The Grammy-winning singer, songwriter and musician is living, breathing country-music history. He's played alongside the masters, from Cash to Lester Flatt, who discovered him; been a worldwide ambassador for Nashville, Bakersfield and points in between; and safeguarded country's most valuable traditions and physical artifacts. Including its literal shoes: Stuart counts the brogan of Carter Family patriarch A.P. Carter and an assortment of Cash's black boots among his vast collection of memorabilia.
But most importantly, Stuart continues to record and release keenly relevant music, records that honor country's rich legacy while advancing it into the future. Way Out West, his 18th studio album, hits both of those marks. Produced by Mike Campbell (of Tom Petty and the Heartbreakers), the album is a cinematic tour-de-force, an exhilarating musical journey through the California desert that solidifies Stuart as a truly visionary artist.
When it comes to transforming country songs into tangible experience, Stuart has a secret weapon: the Fabulous Superlatives. Made up of guitarist Kenny Vaughan, drummer Harry Stinson and new member, bassist Chris Scruggs, the Superlatives are an extension of Stuart himself.
"The Superlatives are missionaries, they're fighting partners. They're my Buckaroos, my Tennessee Three, my Strangers. They're my legacy band and have been since Day One," says Stuart.
As Stuart himself will tell you, he often ventures off the reservation  – in a way, his entire career has been "way out west." While other artists chased popular trends in the name of radio play, he formed complete bodies of work, not unlike the greats he idolized. Way Out West is just the latest embodiment of that creative mission.
"I would play this record for Hank Williams, Merle Haggard or Ernest Hemingway and never bat an eye," says Stuart. "There's something in there that would entertain each of them."
But Stuart also made Way Out West for those who come after. As he sees it, there is no greater responsibility in music than to share what you've learned.
"Lester Flatt saw something in me and gave me his wisdom, wit and music. Johnny Cash was my best friend. But all of that doesn't come for free. The job is to pass it along," says Stuart, stretching out his arms. "That's the way it's supposed to be in country music."
With Way Out West, Stuart holds up his end of the deal.
 *VIP Package includes:      
One (1) Premium Seat in the first two rows.
Admission to private pre-show event in the venue, featuring a two-song performance by Marty and the Superlatives and question & answer / story telling session with Marty and the band. 
One commemorative limited-edition show poster and one VIP laminate and lanyard
Individual photo opportunity taken on stage with Marty and band, using tour photographer
Autograph session with Marty and band (one item limit due to timing restrictions)
Crowd-free merchandise shopping