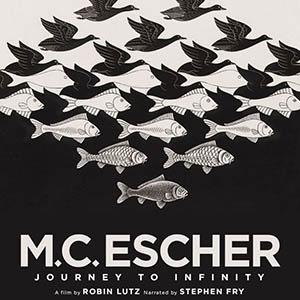 Friday, Feb 5 (All day)

to

Wednesday, Mar 10 (All day)
QUARANTINE CINEMA OFFERING
AVAILABLE STARTING February 5

M.C. Escher: Journey To Infinity is the story of world famous Dutch graphic artist M.C Escher (1898-1972). Equal parts history, psychology, and psychedelia, Robin Lutz's entertaining, eye-opening portrait gives us the man through his own words and images: diary musings, excerpts from lectures, correspondence and more are voiced by British actor Stephen Fry, while Escher's woodcuts, lithographs, and other print works appear in both original and playfully altered form. Two of his sons, George (92) and Jan (80), reminisce about their parents while musician Graham Nash (Crosby, Stills & Nash) talks about Escher's rediscovery in the 1970s. The film looks at Escher's legacy: one can see tributes to his work in movies, in fiction, on posters, on tattoos, and elsewhere throughout our culture; indeed, few fine artists of the 20th century can lay claim to such popular appeal.
"As far as I know, there is no proof whatever of the existence of an objective reality apart from our senses, and I do not see why we should accept the outside world as such solely by virtue of our senses."
—M.C. Escher
Director: Robyn Lutz
Dutch | English | 2021 | Documentary | 81 minutes | NR 
Virtual Tickets: $12.00. 50% of the proceeds support the Lincoln Theatre!
Renting a virtual film through the Lincoln is a great opportunity for patrons to show their support for us during quarantine. Many of the virtural films are available to send as gifts.
HOW TO WATCH: TELEVISION (via APPLE TV, ROKU, CHROMECAST, or downloaded app on your smart TV) | MOBILE DEVICE (iPhone, iPad, Android) | COMPUTER (by clicking on the streaming link).
For more information on how the rental works:
Click the "Buy Tickets" button above,to purchase entry to our digital screening room.
Create an account – it's very easy! – and complete your purchase. 
For general help go to our Streaming Information Page HERE.
For any questions regarding streaming, device, connection, or payment issues, reach out directly streaming platform HERE.
For other questions, please feel free to reach out to us at admin@lincolntheatre.org