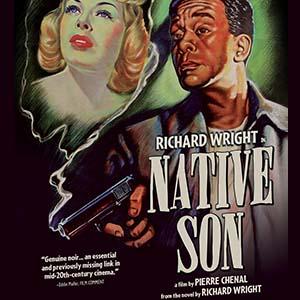 Friday, Sep 25 (All day)

to

Thursday, Oct 15 (All day)
QUARANTINE CINEMA OFFERING
AVAILABLE STARTING SEPTEMBER 25

Kino Lorber is presenting a new restoration of the original Native Son film. The 1951 film version of the novel was directed by Pierre Chenal and starred the novel's author, Richard Wright, as Bigger Thomas. The restoration presented in association with the Library of Congress, Fernando Martin Peña and Argentina Sono Film.
One of the most controversial novels of its day, Richard Wright's NATIVE SON (first published in 1940) exposed the injustices of urban African American life, witnessed through the eyes of Bigger Thomas, whose violent tendencies and moral confusion were the inevitable result of generations of institutionalized racism. In prison for murder and sentenced to death, Thomas reflects on the circumstances that led to his fate. 
The film was as heavily censored upon release in the United States by regional state/municipal censor boards where it played. A complete 16mm print of the original Argentinian release version was located in 1999 by film archivist Fernando Martin Peña in Buenos Aires. Then, the Library of Congress found an incomplete 35mm duplicate negative of the uncensored cut in Puerto Rico. Both were combined for this new restoration, the most complete version of the film ever shown in the United States.
This restoration is preceded by a special filmed introduction by film historians Eddie Muller (Film Noir Foundation) and Jacqueline Najima Stewart (co-curator of Kino Lorber's Pioneers of African American Cinema), courtesy of Turner Classic Movies.
"This new "most complete restoration" has just enough film noir fury about it to hint at the classic it might have been, and plenty of B-movie pop to it even as it is."  - Roger Moore, Movie Nation
"Genuine noir...an essential and previously missing link in mid-20th-century cinema." – Eddie Muller, Film Comment 
"At its center is Wright, a titan of American letters, a native son in flight." - The New Yorker
Director: Pierre Chenal​
Argentina | English | 1951 | Drama | 108 minutes | NR 
$10 for a 5-day pass. 
HOW TO WATCH: TELEVISION (via APPLE TV, ROKU, CHROMECAST, or downloaded app on your smart TV) | MOBILE DEVICE (iPhone, iPad, Android) | COMPUTER (by clicking on the streaming link).
For more information on how the rental works:
Click the BUY TICKETS button above to our digital screening room.
Create an account – it's very easy! – and complete your purchase. 
For general help go to our Streaming Information Page HERE.
For any questions regarding streaming, device, connection, or payment issues, reach out directly streaming platform HERE.
For other questions, please feel free to reach out to us at admin@lincolntheatre.org