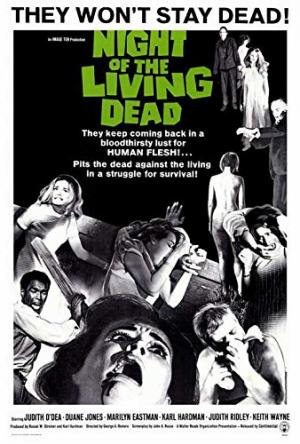 Wednesday, Oct 31, 7:30 pm
When unexpected radiation raises the dead, a microcosm of Average America has to battle flesh-eating zombies in George A. Romero's landmark cheapie horror film Night of the Living Dead. Siblings Johnny and Barbara whine and pout their way through a graveside visit in a small Pennsylvania town, but it all takes a turn for the worse when a zombie kills Johnny. Barbara flees to an isolated farmhouse where a group of people are already holed up. Bickering and panic ensue as the group tries to figure out how best to escape, while hoards of undead converge on the house.
Romero's grainy black-and-white cinematography and casting of locals emphasize the terror lurking in ordinary life; as in Alfred Hitchcock's The Birds (1963), Romero's victims are not attacked because they did anything wrong, and the randomness makes the attacks all the more horrifying. Nothing holds the key to salvation, either, whether it's family, love, or law. Topping off the existential dread is Romero's then-extreme use of gore, as zombies nibble on limbs and viscera. Initially distributed by a Manhattan theater chain owner, Night, made for about 100,000 dollars, was dismissed as exploitation, but after a 1969 re-release, it began to attract favorable attention for scarily tapping into Vietnam-era uncertainty and nihilistic anxiety. By 1979, it had grossed over 12 million, inspired a cycle of apocalyptic splatter films like The Texas Chainsaw Massacre (1974), and set the standard for finding horror in the mundane. However cheesy the film may look, few horror movies reach a conclusion as desolately unsettling.
Director: George A. Romero
Cast: Judith O'Dea, Duane Jones, Russell Streiner, Keith Wayne, Karl Hardman, and Judith Ridley.
What the critics are saying:
"George A. Romero's debut set the template for the zombie film, and features tight editing, realistic gore, and a sly political undercurrent." - Certified Fresh Rotten Tomatoes
"The immediate, quasi-documentary feel, a result of budgetary constraints, actually served the film's horror, jolting audiences because it all seemed just a little too real." - April Wolfe, Village Voice
"If [Romero's] original vision of the undead looks dulled by today's standards, his embedded political commentary on racism feels just as sharp." - Amos Barshad, New York Magazine/Vulture
Film Prices:
Lincoln Theatre Members get a $2 discount on the following prices:
General: $10.50
Seniors, Students and Active Military: $9.50
Children 12 and under: $8.00
All prices include a $1.50 Preservation Fee that goes directly into our capital account for preservation of the Lincoln Theatre and its programs. 
 
Members have benefits: Click here for details