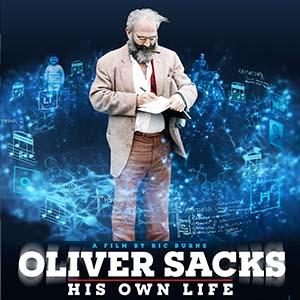 Friday, Sep 25 (All day)

to

Thursday, Oct 15 (All day)
QUARANTINE CINEMA OFFERING
AVAILABLE STARTING SEPTEMBER 25

Oliver Sacks: His Own Life explores the life and work of the legendary neurologist and storyteller, as he shares intimate details of his battles with drug addiction, homophobia, and a medical establishment that accepted his work only decades after the fact. Sacks was a fearless explorer of unknown mental worlds who helped redefine our understanding of the brain and mind, the diversity of human experience, and our shared humanity.
A month after receiving a fatal diagnosis in January 2015, Oliver Sacks sat down for a series of filmed interviews in his apartment in New York City. For eighty hours, surrounded by family, friends, and notebooks from six decades of thinking and writing about the brain, he talked about his life and work, his abiding sense of wonder at the natural world, and the place of human beings within it. Drawing on these deeply personal reflections, as well as nearly two dozen interviews with close friends, family members, colleagues and patients, and archival material from every point in his life, this film is the story of a beloved doctor and writer who redefined our understanding of the brain and mind.
Currently 100% on Rotten Tomatoes
"One of the surprising and moving lessons of this revealing film is how often the most gifted people are unappreciated."  - Stephen Farber. Hollywood Reporter
Director: Ric Burns
USA | English | 2020 | Documentary | 114 minutes | NR 
Tickets: $12
HOW TO WATCH: TELEVISION (via APPLE TV, ROKU, CHROMECAST, or downloaded app on your smart TV) | MOBILE DEVICE (iPhone, iPad, Android) | COMPUTER (by clicking on the streaming link).
For more information on how the rental works:
Click the "Buy Tickets" button above,to purchase entry to our digital screening room.
Create an account – it's very easy! – and complete your purchase. 
For general help go to our Streaming Information Page HERE.
For any questions regarding streaming, device, connection, or payment issues, reach out directly streaming platform HERE.
For other questions, please feel free to reach out to us at admin@lincolntheatre.org