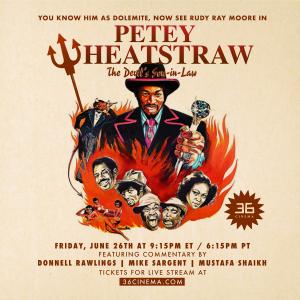 QUARANTINE CINEMA OFFERING

AVAILABLE ONE-TIME-ONLY LIVE - FRIDAY, JUNE 26
You know him as DOLEMITE, now see Rudy Ray Moore as PETEY WHEATSTRAW
On Friday, June 26th at 6:15 PDT, we will be live streaming PETEY WHEATSTRAW on 36cinema.com. Donnell Rawlings—acclaimed actor, comedian, and podcaster—and Mike Sargent—chief Film Critic for WBAI RADIO—will provide live commentary during this special presentation. Their collective knowledge and personal stories related to "Petey Wheatstraw" will give viewers a deeper appreciation for the movies we love.
Doors open at 5:15pm PDT with the movie starting at 6:15pm PDT. Customers will receive a link to the live stream 1 hour prior to showtime. 
Viewers will also be able to ask the moderators questions during the screening. Mustafa Shaikh—co-founder of 36 Chambers—will be moderating the screening. 
If demand matches our prior showings, we will cut off sales prior to showtime to ensure ticket purchasers have the best streaming experience possible. We are still in the process of scaling our technology and can only handle a certain number of users.  
ABOUT THE MOVIE:
Rudy Ray Moore is Petey Wheatstraw, whose talent for comedy is only topped by his gift for Kung Fu. When his arch-rivals, Leroy and Skillet, massacre him and his friends, Petey ends up in Hell and is given a unique opportunity: in exchange for his return to earth, he must wed Satan's daughter.
Special thanks to The Hollywood Theatre. Bringing this film to 36 Cinema would not have been possible without their help. We look forward to you joining us for this first-of-its-kind experience this Friday.
Director: Cliff Roquemore
Cast: Rudy Ray Moore, Jimmy Lynch, Leroy Daniels 
United States | English | 1978 | Comedy | 91 minutes | R
$10 for a one-day rental. 
25% of your ticket purchase directly supports the Lincoln Theatre, while the remainder supports independent filmmaking & distribution.
HOW TO WATCH: TELEVISION (via the downloaded APPLE TV or ANDROID app, or CHROMECAST) MOBILE DEVICE (iPhone, iPad, Android) | COMPUTER (by clicking on the link below).
For more information on how the rental works:
Click the button above, or follow THIS LINK to purchase entry to our digital screening room.
Create an account – it's very easy! – and complete your purchase, you can also gift a screening to a friend or family member.
For any questions regarding streaming, device, connection, or payment issues, help can be found HERE.
For non-streaming questions, please feel free to reach out to us at admin@lincolntheatre.org