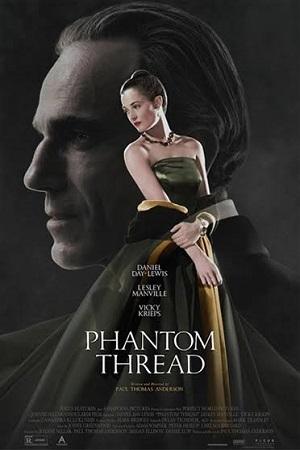 Wednesday, Feb 21, 7:30 pm
Running Time: 130 minutes
Set in the glamour of 1950's post-war London, renowned dressmaker Reynolds Woodcock and his sister Cyril are at the center of British fashion, dressing royalty, movie stars, heiresses, socialites, debutants and dames with the distinct style of The House of Woodcock. Women come and go through Woodcock's life, providing the confirmed bachelor with inspiration and companionship, until he comes across a young, strong-willed woman, Alma, who soon becomes a fixture in his life as his muse and lover. Once controlled and planned, he finds his carefully tailored life disrupted by love. With his latest film, Paul Thomas Anderson paints an illuminating portrait both of an artist on a creative journey, and the women who keep his world running.
Directed By: Paul Thomas Anderson
Cast: Daniel Day-Lewis, Lesley Manville, and Vicky Krieps.
Six Academy Awards Nominations including: Best Picture, Best Actor, Best Supporting Actress, and Best Director.
What the critics are saying:
"Phantom Thread's finely woven narrative is filled out nicely by humor, intoxicating romantic tension, and yet another impressively committed performance from Daniel Day-Lewis."
Certified Fresh on Rotten Tomatoes
"If you go in expecting a Daniel Day-Lewis movie, you'll walk away with a Vicky Krieps movie, and we're all the better for it. The Luxembourgian actress will sweep you off your feet."
Katie Walsh, Tribune News Service
"Paul Thomas Anderson's "Phantom Thread" casts a remarkable spell; it wraps around you, like a delicately scented cashmere shawl woven from music and color and astonishing faces."
Moira MacDonald, Seattle Times
 
Film Prices:
Lincoln Theatre Members get a $2 discount on the following prices:
General: $10.50
Seniors, Students and Active Military: $9.50
Children 12 and under: $8.00
Sunday Bargain Prices:
General: $9.00
Children 12 and under: $7.50
Add $2.00 to the above prices for 3D screenings
All prices include a $1.50 Preservation Fee that goes directly into our capital account for preservation of the Lincoln Theatre and its programs. 
 
Members have benefits: Click here for details.