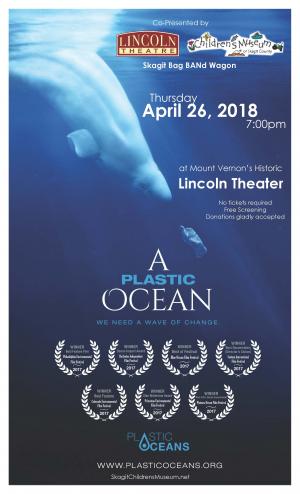 Thursday, Apr 26, 7:00 pm
Running Time: 102 minutes
April is Earth Month, and we're excited about all the upcoming events and activities. There are plenty of ways to get involved – how will you take part this year? Perhaps you'll learn why and how our lives need to be less plastic.  Maybe you'll join with other Skagit residents asking city councils across Skagit to consider single-use bag ban ordinances.
Skagit BAG BANd Wagon, the Children's Museum of Skagit County, and the Lincoln Theatre are joining forces to present a free screening of A PLASTIC OCEAN.  The film begins when journalist Craig Leeson, searching for the elusive blue whale, discovers plastic waste in what should be pristine ocean. In this adventure documentary, Craig teams up with free diver Tanya Streeter and an international team of scientists and researchers, and they travel to twenty locations around the world over the next four years to explore the fragile state of our oceans, uncover alarming truths about plastic pollution, and reveal working solutions that can be put into immediate effect.
Directed By: Craig Leeson
Cast: Sir David Attenborough, Sylvia Earle, Craig Leeson, Tany Streeter.
Callie Martin, Skagit County Public Works Outreach Coordinator will be on hand to answer your questions. More information about Skagit County recylcling programs here: https://www.skagitcounty.net/Departments/PublicWorksSolidWaste/recyclemain.htm
The film screening is free with donations accepted at the door to help cover expenses.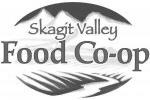 Thanks to the Skagit Valley Co-op and Skagit County Public Works for their support!