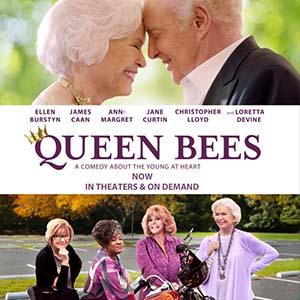 TICKETS GO ON SALE WEDNESDAY JUNE 30
MOVIES ARE BACK - QUEEN BEES WILL BE AN IN-THEATRE EXPERIENCE!
While her house undergoes repairs, fiercely independent senior Helen temporarily moves into a nearby retirement community, where she encounters lusty widows, cutthroat bridge tournaments and a hotbed of bullying "mean girls."
Director: Michael Lembeck
Cast: Ellen Burstyn, James Caan, Ann-Margret, Jane Curtin, Loretta Devine, Christopher Lloyd
An ideal date night or friends' group evening out. Love is love and there's no expiration date. Or, as Curtin's bossy biddy says, tongue planted firmly in cheek, "Eighty is the new 18." - Thelma Adams, AARP Movies for Grownups
USA | English | 2021 | Comedy, Drama, Romance | 101 minutes | Rated PG-13
COVID UPDATE as of 6/30/21: WE ARE BACK and getting closer to the new normal every day! With the good news from the CDC and the Governor's Office we are inching towards normalcy. We have formally lifted our mask mandate, which means fully vaccinated patrons are free to go without face coverings and social distancing at our events! State Health Officials are still asking that those not-yet vaccinated continue to wear face coverings.
COVID SAFETY PROTOCOLS CAN BE FOUND HERE.
Film Prices
Lincoln Theatre Members get $2.00 off on the following prices with discount code:
General: $11.00
Seniors, Students and Active Military: $10.00
Children 12 and under: $8.50
Sunday Bargain Prices:
General: $9.50
Children 12 and under: $8.00
All prices include a $2.00 Preservation Fee that goes directly into our capital account for preservation of the Lincoln Theatre and its programs