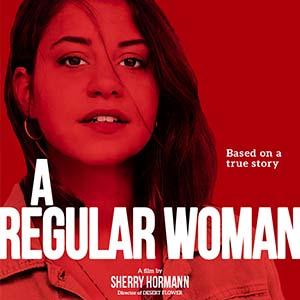 Friday, Jun 26 (All day)

to

Wednesday, Jul 15 (All day)
QUARANTINE CINEMA OFFERING
AVAILABLE STARTING JUNE 26 

Based on the tragic "honor killing" of Hatun Aynur Sürücü in 2005, the film A Regular Woman portrays a glimpse of life for a free spirited young woman living with an ultra-conservative Turkish Muslim family in Berlin. After escaping a forced marriage in Turkey with her abusive cousin, Hatun provokes the ire of her family by embracing a westernized lifestyle. After enduring endless harassment, she finally leaves the family and attempts to survive alone with her child, with whom she had escaped Turkey while pregnant. The threats and harassment continue, with German authorities willing to do nothing unless a physical act of harm takes place. This soon materializes as the family decides to task Hatun's youngest brother with a deed that would end the family's "shame," and thrust the horrific practice of honor killings into the national spotlight.
Director: Sherry Hormann
Cast: Almila Bagriacik, Merve Aksoy, Aram Arami, Mehmet Atesci, Rauand Taleb​
"This movie gives Aynur her voice back, if just for an hour and a half. And in doing so, it gives a voice to any woman who might be hurting, abused, or silenced.​" - Debbie Holloway, Narrative Muse
Germany | German with English Subtitles | 2019 | Drama | 90 minutes | NR
$10 for a 3-day rental period. 
50% of your ticket purchase directly supports the Lincoln Theatre, while the remainder support independent filmmaking & distribution.
HOW TO WATCH: TELEVISION (via the the downloaded APPLE TV or ANDROID app, or CHROMECAST) MOBILE DEVICE (iPhone, iPad, Android) | COMPUTER (by clicking on the link below).
For more information on how the rental works:
Click the button above, or follow THIS LINK to purchase entry to our digital screening room.
Create an account – it's very easy! – and complete your purchase, you can also gift a screening to a friend of family member.
For any questions regarding streaming, device, connection, or payment issues, help can be found HERE.
For non-streaming questions, please feel free to reach out to us at admin@lincolntheatre.org