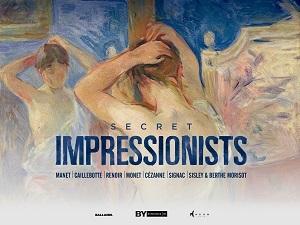 Wednesday, Apr 28 (All day)

to

Tuesday, May 4 (All day)

Secret Impressionists - Great Art on Screen documentary series 
You pick the date and time to watch in our Lincoln Quarantine Cinema between April 28 –  May 4
Secret Impressionists reveals the story of the art revolution sparked by the Impressionist movement of the late 1800s. The art-documentary unveils 50 previously unseen works by Impressionist masters Manet, Caillebotte, Renoir, Monet, Cézanne, Signac, Sisley, and Morisot. 
Italy | Italian | 2020 | Documentary | 90 minutes | PG-13 
Virtual Tickets: $10.00. 50% of the proceeds support the Lincoln Theatre!
Renting a virtual film through the Lincoln is a great opportunity for patrons to show their support for us during quarantine. Many of the virtural films are available to send as gifts.
HOW TO WATCH: TELEVISION (via APPLE TV, ROKU, CHROMECAST, or downloaded app on your smart TV) | MOBILE DEVICE (iPhone, iPad, Android) | COMPUTER (by clicking on the streaming link).
For more information on how the rental works:
Click the BUY TICKETS button above to purchase entry to our digital screening room.
Create an account – it's very easy! – and complete your purchase. 
For general help go to our Streaming Information Page HERE.
For any questions regarding streaming, device, connection, or payment issues, reach out directly streaming platform HERE.
For other questions, please feel free to reach out to us at admin@lincolntheatre.org