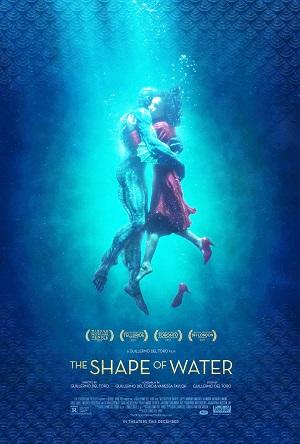 Saturday, Mar 24, 7:30 pm
Wednesday, Mar 28, 7:30 pm
Running Time: 119 minutes
From master story teller, Guillermo del Toro, comes The Shape of Water - an other-worldly fairy tale, set against the backdrop of Cold War era America circa 1962. In the hidden high-security government laboratory where she works, lonely Elisa is trapped in a life of isolation. Elisa's life is changed forever when she and co-worker Zelda discover a secret classified experiment. 
4 Academy Award Wins including Best Picture and Best Director!
Directed By: Guillermo del Toro
Cast: Sally Hawkins, Octavia Spencer, Michael Shannon, Richard Jenkins, Doug Jones and Michael Stuhlbarg.
What the critics are saying:
"The Shape of Water finds Guillermo del Toro at his visually distinctive best -- and matched by an emotionally absorbing story brought to life by a stellar Sally Hawkins performance."
Certified Fresh on Rotten Tomatoes
"The Shape of Water" is director Guillermo del Toro's finest film, a lovely, empathetic tribute to Old Hollywood, monster movies, outsiders and love that could only come from the mind of the visionary filmmaker." 
Adam Graham - Detroit News
"An enchanting re-imagining of "Beauty and the Beast," it is an unforgettably romantic, utterly sublime, dazzling phantasmagoria."
Colin Covert - Minneapolis Star Tribune
 
Film Prices:
Lincoln Theatre Members get a $2 discount on the following prices:
General: $10.50
Seniors, Students and Active Military: $9.50
Children 12 and under: $8.00
Sunday Bargain Prices:
General: $9.00
Children 12 and under: $7.50
Add $2.00 to the above prices for 3D screenings
All prices include a $1.50 Preservation Fee that goes directly into our capital account for preservation of the Lincoln Theatre and its programs. 
 
Members have benefits: Click here for details.