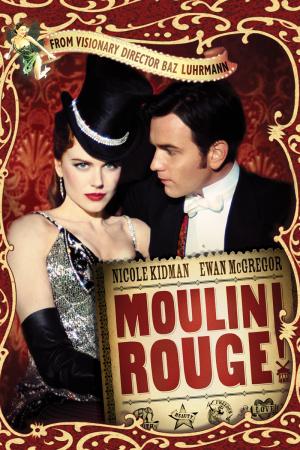 Wednesday, Feb 14, 7:30 pm
The third film from pop-music-obsessed director Baz Luhrmann tweaks the conventions of the musical genre by mixing a period romance with anachronistic dialogue and songs in the style of his previous Romeo+Juliet (1996). Ewan McGregor stars as Christian, who leaves behind his bourgeois father during the French belle époque of the late 1890s to seek his fortunes in the bohemian underworld of Montmartre, Paris. Christian meets the absinthe-and alcohol-addicted artist Henri de Toulouse-Lautrec, who introduces him to a world of sex, drugs, music, theater, and the scandalous dance known as the cancan, all at the Moulin Rouge, a decadent dance hall, brothel, and theater that's the brainchild of Harold Zidler. Christian also meets and falls into a tragically doomed romance with the courtesan Satine, who becomes the star of the play he's writing, which parallels the couple's romance and utilizes rock music from a century later, including songs by Nirvana, Madonna, the Beatles, and Queen, among others. Loosely based on the opera Orpheus in the Underworld, Moulin Rouge was shown in competition at the 2001 Cannes Film Festival. 
Directed By: Baz Luhrmann
Cast: Ewan McGregor, Nicole Kidman, Jim Broadbent, John Leguizamo, Richard Roxburgh, and Kylie Minogue.
"One of the great movie spectacles of this generation, an undertaking of vast scope made all the more fascinating by how it transforms commonplace undercurrents into rich sensations for every frame it possesses the screen."
David Keyes, Cinemaphile.org
Our Art Bar will be open and serving The Green Fairy (absinthe) inspired beverages!
Next in the series: The Umbrellas of Cherbourg on March 17.
Film Prices:
Lincoln Theatre Members get a $2 discount on the following prices:
General: $10.50
Seniors, Students and Active Military: $9.50
Children 12 and under: $8.00
All prices include a $1.50 Preservation Fee that goes directly into our capital account for preservation of the Lincoln Theatre and its programs. 
 
Members have benefits: Click here for details.