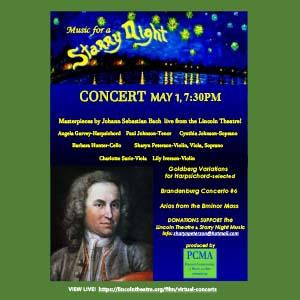 On May1 at 7:30PM, Starry Night Chamber Music presents an absolute banquet of J.S. Bach masterworks!
Click HERE for a program to bhe May 1st concert.
The amazing Goldberg Variations for harpsichord, his E major Partita for Solo Violin, and selected Arias and a Duet from Bach's larger Choral works, with a resounding finale -the beautiful and boisterous Brandenburg Concerto #6 for two Violas.
The performers are from Skagit and Whatcom Counties,  all of whom are familiar to concertgoers in our area.
Angela Garvey will perform on her gorgeous new harpsichord, crafted for her just recently-you must hear this lovely instrument, played by such a talented professional. She will play three selected variations from this long and complex work. The harpsichord is the foundational element of nearly the entire concert, as it would have been in Bach's lifetime, only 231 years ago. Our superb guest vocalists for the evening are Paul Johnson, tenor, and Cynthia Johnson, soprano. Both have extensive professional experience in California, and now reside in Bellingham, where they sing regularly at St. Brendan's Anglican Church.
The explosive E Major Partita for Solo Violin is a veritable tour de force which has been a staple of virtuoso violin players for many decades. Sharyn Peterson, Starry Night Founder and Director, will perform the opening movement, Preludio, the sweet and poignant Loure', and the joyful Gavotte.
A special offering of this all Bach Concert is the inclusion of two Peterson Conservatory graduating seniors- musicians having studied with our teachers for significant lengths of time. You will first hear Lily Iverson play the answering violin part in the lovely duet, Domine Deus from the Bminor mass, and in the final selection, the Brandenburg Concerto #6, Charlotte Saric, violist, will perform as one of the soloists, with her instructor, Sharyn Peterson, as the other solo violist. Peterson Conservatory is choosing this  occasion to honor these two highly deserving high school graduates, both  of whom are also finishing up their two year degrees at Skagit Valley College. Both have played for many years in the Fidalgo Youth Symphony in Mount Vernon, Lily as concertmaster most recently and Charlotte as principal viola.
There is one other extremely important foundational instrument which will be featured on May 1! It is the Cello, supporting the ensembles in every chamber selection, expertly performed by Barbara Hunter, a regular Starry Night Chamber Orchestra Cellist, and principal Cello of the Seattle Philharmonic. She has been an enormous benefit to our musical community since she arrived in Skagit Valley after many years of touring with various contemporary groups.
Tune in and enjoy selections from the amazingly vast output of one of our greatest composers, Johann Sebastian Bach!
Angela Garvey began her musical studies at the age of six with her mother, Kate Stampley, in Fort Benning, Georgia.  Playing the piano, with her mother as resource and guide, was one constant in the changeable life of a military dependent.  Mrs. Garvey holds a Bachelor of Music, cum laude, from Mississippi University for Women and a Master of Music from the University of Alabama (both in Organ Performance).  She and her husband Ned relocated to the Pacific Northwest seven years ago; she has served as Organist/Music Director of St. Brendan's Anglican Church, Bellingham, since 2015.  Angela is now enjoying playing the instrument of her dreams – a two-manual German-style harpsichord, built in 2019 by Owen Daly of Salem, Oregon. 
Paul L. and Cynthia W. Johnson, tenor and soprano, have been privileged to perform together many times since they met in a production of Smetana's The Bartered Bride in Los Angeles 1983. They were married in 1985. Since then, they have shared the stage with Long Beach Bach Festival, San Louis Obispo Mozart Festival, the Bellingham Festival of Music, The Seattle, Oregon, Spokane, Tucson, and Whatcom Symphonies, the Los Angeles Vocal Arts Ensemble, and the Los Angeles Master Chorale. In 1990 they moved to Bellingham with their son Graham. They sing often at St. Brendan's Anglican Church, in Bellingham. Cynthia received BM of Music from Cal State Long Beach, Paul a Degree in Vocal Performance for Cal State Los Angeles. Paul was a charter member of the Los Angeles Chamber Orchestra Bach Soloists.
Barb Hunter is a Skagit-County based cellist and cello teacher with 40 years of playing experience in both classical and rock/folk/pop settings. She studied with Geraldine Sutyak (a student of the great Janos Starker), baroque specialist Brent Wissick at UNC Chapel Hill, and LaSalle Quartet cellist Lee Fiser at the University of Cincinnati College-Conservatory of Music. She served as principal cellist in the Seattle Philharmonic Orchestra before making Sedro-Woolley her home, and has most recently performed with the Bellingham Symphony Orchestra, the Starry Night Players, the Bellingham Chamber Chorale, and the Theater Artists for Social Action group.
Sharyn Peterson, Violinist, Violist, Vocalist, Artistic Director, is a versatile performer and experienced instrumental and choral group instructor for all ages. Currently Director of Mt. Baker and Fidalgo Youth Symphonies, she is also active as an adjudicator and maintains an active career as a conductor, violin soloist, concertmaster, music arranger, and recording artist. In 2004, she helped found Skagit Opera, for which she conducted Amahl and the Night Visitors by Menotti, and played several seasons as Concertmaster and orchestra agent. Mrs. Peterson has served on the faculties of Seattle Pacific and Western Washington Universities, and is Director of Starry Night Chamber Orchestra and Peterson Conservatory of Music and Arts. She is a frequent violin soloist/Concertmaster with Northwest choral, dance and symphonic ensembles. She has also directed/conducted Sounds of Summer Music Festival each year 1995 – 2019, an orchestra/jazz/choral camp for students ages 10 to 21. In 2009, she orchestrated and conducted the Starry Night Chamber Orchestra in A Christmas Carol and Cinderella at McIntyre Hall. She served as Concertmaster for Grace Experimental Orchestra in Seattle, and led the Starry Night Chamber Strings in Karin Stevens' Dance performances, and has conducted several successful musicals, most recently Into the Woods at the Lincoln Theatre. A conducting highlight was the Meydenbauer Hall Concert featuring showpieces by the Starry Night Orchestra, and accompanying young Concerto Competition winners! She has led concert tours to China, Portugal, Eastern Europe, Finland, Ireland, and Italy/Portugal. In China, she gave a Master Class in Bei Hua University, and taught at a Summer Music Institute in Shanghai. She and her husband, Malcolm, have three times been guest artists at the Monte Verde Music Festival in Costa Rica. A highlight of her solo career was performing Fang Li's Violin Concerto in Benaroya Hall, Seattle. Her most recent large scale solo appearance was with the Rainier Symphony in the Brahms Violin Concerto. She often travels out of state performing on violin and voice at various Concerts and Conventions. (most recently-Salish Sea Concerts for New Music, with Jeffrey Cohan)
Lily Iverson, Violin, began violin lessons when she was 5 years old and has been playing ever since. She has performed with Mount Baker and Fidalgo Youth Symphonies for the past 7 years, most recently as Concertmaster, and has participated in Sounds of Summer Music Festival Camp with PCMA. An Anacortes native, she currently studies violin with Sharyn Peterson and is looking forward to playing in the orchestra at Whitworth University in the fall where Lily was awarded a Music Scholarship.
Charlotte Saric, Viola, from Sedro Woolley, has been performing in Mount Baker and Fidalgo Youth Symphonies for 5 years, after beginning her musical training in the Sedro Woolley String program, under Celeste Weaver. She has been Principal Viola in both Symphonies, and performed numerous appearances with the Fidalgo and Mount Baker String Quartets. She attended Sounds of Summer Music Festival Camp with PCMA for three summers, performing in the advanced orchestra and chamber groups. Charlotte was Principal Viola in North Stars Chamber Orchestra on their Concert tours to Ireland (2018) and Italy/Portugal (2019). She plans to attend UPS in the fall, majoring in Music Performance (viola).
The stream goes live at 7:00pm. The concert starts at 7:30pm
The concerts will be streamed on our Youtube channel by donation. Proceeds will be split 50/50 between the performers and the Lincoln Theatre Center Foundation.
Support for the series comes from Richard Hartung, Margaret and Allen Bird, and Cindi and Steve Olszewski, Mr. Don Wick, the Rick Epting Foundation, Dimensional Communications, Logan Creek and JRivera & Associates. A big thank you to to Colby and Brett from Dimensional Communications for their technical assistance. Virtual Portrait Support: Wendy and Roger Ragusa, Susan Wilson and Eric Hall, Duncan West and Mary Deaton, Peggy Sue Erickson, Roger Gietzen and Chelan Robbins, Taylor Bannister, Cathy and Walter Pfahl, Susan Zamaria and Steve Girard.
Artists: Are you ready to get back on stage? Please email roger@lincolntheatre.org if you are interested in being a part of this series.
Sponsors: Would you like to help offset crew and licensing costs? Low cost sponsorships are available. Click HERE for a PDF to the sponsor agreement. Please email roger@lincolntheatre.org for more information.