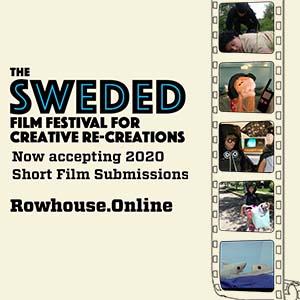 SWEDED FILM FEST
Rowhouse Cinema, the fine folks who brought us the Quarantine Cat Film Festival, turned the concept into a film festival and 2020 will be its fourth year running.
Isn't Sweden a country?
It is! We hear they have great meatballs.
But Sweded films have nothing to do with Sweden the country, and everything to do with Michel Gondry's Be Kind Rewind — a 2008 film in which video store employees (Jack Black and Mos Def) ruin an entire store worth of videos and cover their mistake by hilariously remaking films themselves.
Join us for the only festival of classic movies, re-made by amateurs who replace A-list stars and CGI with whatever is laying around their houses and a ton of creativity. It's odd, unexpected, and a whole lot of fun.
There are just a few rules to a Sweded film. Keep it cheap, short, and out of control, but make it awesome.
Filmmakers can register now and submit their films by DECEMBER 31. Our panel of judges will choose winners for our cash prizes, and we'll compile the best of the best Sweded submissions to be included in a feature-length compilation film.
We had 11 entries from our patrons whose cats we're selected to be featured in the Quarantine Cat Film Fest. Let's see if we can top that with the Sweded Film Fest.
A feature-length film with the selected Swedes will premiere in JANUARY 2021. You can watch it at home through our virtual cinema or (hopefully) our In-Theater Experience.