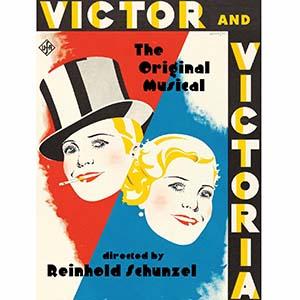 Friday, Jun 12 (All day)

to

Thursday, Jul 2 (All day)
QUARANTINE CINEMA OFFERING
OPENS FRIDAY, JUNE 12

PIONEERS OF QUEER CINEMA SERIES
AVAILABLE STARTING JUNE 12 FOR PRIDE MONTH: New Restorations of 3 "Way Ahead of Their Times" Classics
In this dazzling musical romance, a young woman (Renate Müller), unable to find work as a music hall singer, partners with a down-and-out thespian (Hermann Thimig) to revamp her act. Pretending to be a man performing in drag, Victoria becomes the toast of the international stage. But she soon finds that her playful bending of genders enmeshes her personal and professional life in a tangle of unexpected complications. Produced in the final days of the Weimar Republic, Victor and Victoria received limited exposure in the United States, and is today best known by Blake Edwards' 1982 remake and the 1995 Broadway production. Viewers will be delighted to discover that the original is every bit as charming and outrageous, reminiscent of the sly sex comedies of Ernst Lubitsch and Billy Wilder.
"An impressive blast of Weimar decadence...As the inevitable romantic complications ensue, what emerges is a movie with surprisingly tangled gender politics and a melancholy sense of romance, crossed with lively, creative musical numbers." - Bilge Ebiri, Vulture New York
Director: Reinhold Schunzel
Germany | German with English Subtitles | 1933 | Drama | 96 minutes | NR 
OTHER TITLES IN THE SERIES:
MADCHEN IN UNIFORM (1931)
MICHAEL (1924)
SPECIAL REPERTORY TICKET PRICE: $15 FOR ALL 3 FILMS FOR A 10 DAY RENTAL PERIOD!
50% of your ticket purchase directly supports the Lincoln Theatre, while the remainder support independent filmmaking & distribution.
HOW TO WATCH: TELEVISION (via the the downloaded APPLE TV or ANDROID app, or CHROMECAST) MOBILE DEVICE (iPhone, iPad, Android) | COMPUTER (by clicking on the link below).
For more information on how the rental works:
Click the button above, or follow THIS LINK to purchase entry to our digital screening room.
Create an account – it's very easy! – and complete your purchase, you can also gift a screening to a friend of family member.
Watch all three films as much as you like for 10 days!
For any questions regarding streaming, device, connection, or payment issues, Kino Marquee can help you here.
For non-streaming questions, please feel free to reach out to us at admin@lincolntheatre.org