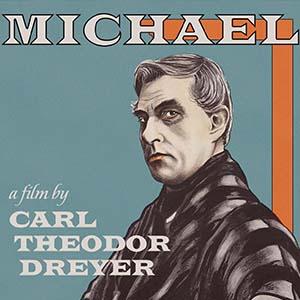 Friday, Jun 12 (All day)

to

Thursday, Jul 2 (All day)
QUARANTINE CINEMA OFFERING
OPENS FRIDAY, JUNE 12

PIONEERS OF QUEER CINEMA SERIES
AVAILABLE STARTING JUNE 12 FOR PRIDE MONTH: New Restorations of 3 "Way Ahead of Their Times" Classics
Danish film master Carl Theodor Dreyer's Michael is a mature and visually elegant period romance decades ahead of its time. Michael takes its place alongside Dreyer's better known masterpieces as an unusually sensitive and decorous work of art and is one of the earliest and most compassionate overtly gay-themed films in movie history. Collaborating with famed German cinematographers Karl Freund (Metropolis, The Last Laugh) and Rudolph Maté (Passion of Joan of Arc, DOA) Michael offers the first fully realized example of Dreyer's emotionally precise, visually extravagant style that would be perfected in his subsequent masterworks such as Joan of Arc and Ordet.
"Michael is perhaps Dreyer's first masterpiece, assured, reticent, and radiant." - Tom Milne, The Films of Carl Dreyer
Director: Carl Theodor Dreyer
Germany | German Intertitles with English Subtitles | 1924 | Drama | 96 minutes | NR 
OTHER TITLES IN THE SERIES:
MADCHEN IN UNIFORM (1931)
VICTOR AND VICTORIA (1933)
SPECIAL REPERTORY TICKET PRICE: $15 FOR ALL 3 FILMS FOR A 10 DAY RENTAL PERIOD!
50% of your ticket purchase directly supports the Lincoln Theatre, while the remainder supports independent filmmaking & distribution.
HOW TO WATCH: TELEVISION (via the the downloaded APPLE TV or ANDROID app, or CHROMECAST) MOBILE DEVICE (iPhone, iPad, Android) | COMPUTER (by clicking on the link below).
For more information on how the rental works:
Click the button above, or follow THIS LINK to purchase entry to our digital screening room.
Create an account – it's very easy! – and complete your purchase, you can also gift a screening to a friend or family member.
Watch all three films as much as you like for 10 days!
For any questions regarding streaming, device, connection, or payment issues, Kino Marquee can help you here.
For non-streaming questions, please feel free to reach out to us at admin@lincolntheatre.org