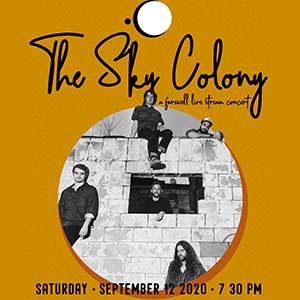 Saturday, Sep 12, 7:30 pm

Stream The Sky Colony's Farewell Show Live from the Lincoln Theatre's Stage! You'll find the stream beginning at 7:00pm Saturday on our YouTube Channel by clicking HERE.
"The Sky Colony were already having hard times as a band entity. Many friend-band-businesses with likewise moderate successes were calling it quits due to lack of all-around ticket and merch sales, and then the paradigm of the music world was completely decimated along with many other aspects of the 'old world'. Being attuned to the way things were heading, we were, in full honesty, ready to let it go. Now, we give one last farewell as Skagit's wholesome folk-rock group, one born with the starry eyes of the bands from the early 70's, to let the old world die. As the core members Kyle, Ben, and Jeff move on from one another and accept the new pathways presented, we are being brought much light and peace, along with new creativity with music. This virtual show will feature an hour set, 10 songs selected from our entire catalogue, with verbal memories and connections from the band, ending with a perfect finale of a song never released, 'This Is It'.
We have had eight years of wonderful support from many radiant humans. It was an honor to see your faces while we did. To all of you, from all of us, Thank you." - The Sky Colony
website | youtube | instagram | facebook
Support for the series comes from Logan Creek. A big thank you to to Colby and Brett from Dimensional Communications for their technical assistance.
The Complete Live From the Lincoln Virtual Concert Series will be announced following this premiere concert. The concerts will be streamed free on Youtube with donations accepted. Proceeds will be split 50/50 between the performers and the Lincoln Theatre Center Foundation.
Musicians: Are you ready to get back on stage? Please email roger@lincolntheatre.org if you are interested in being a part of this series.
Sponsors: Would you like to help offset crew and licensing costs? Low cost sponsorships are available. Please email roger@lincolntheatre.org for more information.