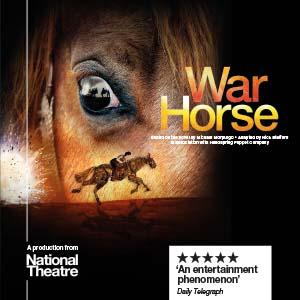 Wednesday, Mar 31 (All day)

to

Tuesday, Apr 6 (All day)
War Horse - National Theatre Live
You pick the date and time to watch in our Lincoln Quarantine Cinema between March 31 – April 6
WE'VE PARTNERED WITH OUR FRIENDS AT SKAGIT ANIMALS IN NEED TO HELP THEIR GREAT CAUSE. Skagit Animals In Need (Sain) provides much-needed support in the fostering, rehabilitation, care, and adoption of large animals and livestock seized in neglect and cruelty cases, or released to animal control or law enforcement officers.  They are an all-volunteer non-profit focusing efforts in Skagit County. $2 of every ticket purchased for WAR HORSE goes to their fine organization - or you can donate directly via the link below.


Now seen by more than 8 million people around the world, War Horse is a powerfully moving and imaginative stage drama, a show of phenomenal inventiveness, filled with stirring music and songs. At its heart are astonishing life-size puppets by South Africa's Handspring Puppet Company, who bring breathing, galloping, charging horses thrillingly to life on stage.  Based on the beloved novel by Michael Morpurgo, adapted for the stage by Nick Stafford. 
"Captivating! Nothing can replicate the specific thrill of watching Joey take on substance and soul before our eyes." -- New York Times 
"A remarkable achievement... an astonishing piece of theatre." -- Time Out 
"Genius isn't too strong a word to describe this astonishing production." -- Daily Telegraph 
UK| English | 2014 | Drama | 165 minutes | PG 
Virtual Tickets: $15.00. 50% of the proceeds support the Lincoln Theatre!
Renting a virtual film through the Lincoln is a great opportunity for patrons to show their support for us during quarantine. Many of the virtural films are available to send as gifts.
HOW TO WATCH: TELEVISION (via APPLE TV, ROKU, CHROMECAST, or downloaded app on your smart TV) | MOBILE DEVICE (iPhone, iPad, Android) | COMPUTER (by clicking on the streaming link).
For more information on how the rental works:
Click the BUY TICKETS button above to purchase entry to our digital screening room.
Create an account – it's very easy! – and complete your purchase. 
For general help go to our Streaming Information Page HERE.
For any questions regarding streaming, device, connection, or payment issues, reach out directly streaming platform HERE.
For other questions, please feel free to reach out to us at admin@lincolntheatre.org