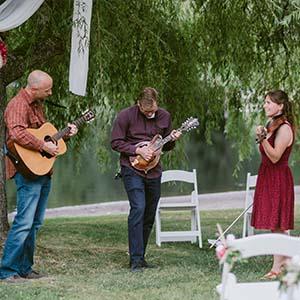 Saturday, Apr 17, 7:30 pm


"Started with a fiddle and a guitar..." 
Go the lyrics heard in the "Whiskey River Mudflats Anthem" sung by vocalist/guitarist Jason Morgan; this very-literal line harkens back to the early days of the three-piece Folk/Americana outfit.
Formed by Morgan and vocalist/fiddler Sarah Wheatley on the banks of the Samish River in Bow, WA, the Whiskey River Mudflats was created over a shared love of traditional American folk music and good times. 
Practices down by the river, under the sunshine (or rain, it is the Pacific Northwest after all), are where the duo honed their sound known for blending smooth instrumentation with powerful vocal harmonies. 
After a few months of jamming but drinking more than a few Vitamin R's, the band met vocalist/mandolinist Kenny Clarkson to round out the trio. Clarkson wasn't as familiar to the Folk/Americana genre as the other two, but had a penchant for learning fiddle tunes and wanted to develop further on the mandolin. 
And then the lineup was set. After ironing out a robust set of covers, the Whiskey River Mudflats began to write original material varying in genre and sound. At one of their live shows you can expect to hear anything from a traditional fiddle tune to a moving John Prine cover and new and inviting original songs in between. 
Support for the series comes from Margaret and Allen Bird, and Cindi and Steve Olszewski, Mr. Don Wick, Dimensional Communications, Logan Creek and JRivera & Associates. A big thank you to to Colby and Brett from Dimensional Communications for their technical assistance. Virtual Portrait Support: Wendy and Roger Ragusa, Susan Wilson and Eric Hall, Duncan West and Mary Deaton, Peggy Sue Erickson, Roger Gietzen and Chelan Robbins, Taylor Bannister, Cathy and Walter Pfahl.
The concerts will be streamed on our Youtube channel by donation. Proceeds will be split 50/50 between the performers and the Lincoln Theatre Center Foundation.
Artists: Are you ready to get back on stage? Please email roger@lincolntheatre.org if you are interested in being a part of this series.
Sponsors: Would you like to help offset crew and licensing costs? Low cost sponsorships are available. Click HERE for a PDF to the sponsor agreement. Please email roger@lincolntheatre.org for more information.