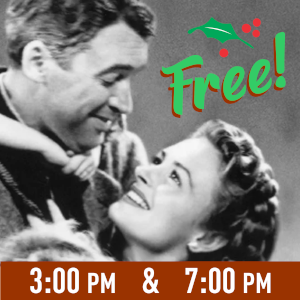 Two Free Screenings! 
James Stewart stars as George Bailey, a down-on-his-luck everyman who has given up on his personal dreams and is thinking of ending things on Christmas Eve. His guardian angel Clarence (Henry Travers) swoops down from Heaven to show George what life would be like if he had never existed.
As George is shown what his kindness and generosity have meant to the people of Bedford Falls, he comes to realize that his life is, indeed, a wonderful one.
"What is remarkable about It's a Wonderful Life is how well it holds up over the years; it's one of those ageless movies, like Casablanca or The Third Man, that improves with age. Some movies, even good ones, should only be seen once. Other movies can be viewed an indefinite number of times. Like great music, they improve with familiarity. It's a Wonderful Life falls in the second category." —Roger Ebert, Great Movies
Directed by: Frank Capra
Cast: James Stewart, Donna Reed, Lionel Barrymore, Thomas Mitchell, Henry Travers, Gloria Grahame.
United States | English | 1946 | 130 minutes
ADMISSION IS FREE! A gift to our community from all of us at the Lincoln Theatre and the Mount Vernon Downtown Association.