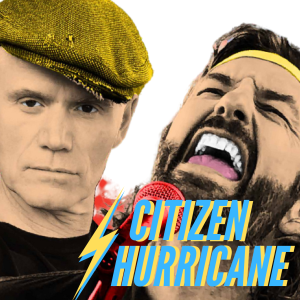 Saturday, Sep 30, 7:30 pm
David and Ken return to the Lincoln as Citizen Hurricane: The World's Greatest Improvised Rock & Roll Comedy Act… in the World! An improvised comedy show and concert inspired by audience suggestions, it's real stories, ridiculous characters, and hilarious, spontaneous songs smothered with world-class guitar playing.
It's Whose Line is it Anyway meets Tenacious D, Bo Burnham, and Flight of the Conchords.
It's great music inspired by all of your favorites including Oasis, Radiohead, Jack White, and Foo Fighters, with musical styles from Jazz to Reggae to Hard Rock. They'll even do Country for you…if they have to. Citizen Hurricane are award-winning musical comedians who can't wait to make you laugh, sing along and rock out to your new favorite songs!  
You're familiar with them from Just For Laughs, Bumbershoot, CBC's The Debaters, Conversations with my 2-year-old (125 million views on YouTube!!!), and numerous improv festivals around the world. Citizen Hurricane's David and Ken are members of the Internationally acclaimed The Comic Strippers, Canadian Comedy Award Winners and Multi-Nominees, YouTube Streamy Award Winners, and alumni of both Second City and Vancouver TheatreSports.
Advance Reserved Seating Tickets: $24 (all seats) + applicable fees.