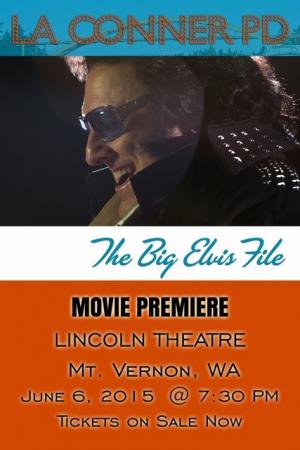 Guy Vallee (principal writer and co-producer) wrote this amazing film to honour his brother Peter "Big Elvis" Vallee for his 50th birthday and receiving his STAR in Las Vegas.
The story of is of two big city cops on the run hiding out in the small town of La Conner, WA with Big Elvis.   Anything can happen when Big Elvis is around.   People love his singing and he happens to just be where he needs to be at exactly the right time to save the day.
Featuring a wonderful local cast and countless extras who supported and volunteered to be part of this film.
Wurlitzer Organist:  Fred Beeks
LEAD:
Peter…Peter Vallee, Greg…Greg Korsgren, Guy…Guy Vallee
SUPPORTING:
Mayor Ramon…Ramon Hayes, Jason…Peter Hubl, Lydia…Lydia Randall, Bobbie…Bobbie Crawford, Emily…Emily Jackson, Chef Dagmar…Dagmar Dick, Capt. Wayne…Wayne Jones, Frank…Frank Scott, Ashlyn, La Gong Show Announcer…Ashlyn Reinstra, French Woman…Terry Vallee, Big Dude…John Vargas, Kristen…Kristen Serna, Tazed woman…Lisa Judy, Hotel Clerk…Marla Vallee, Hawaiian Woman…Kim Fair, Hawaiian Man…Jordan R. Ray, Jailhouse Rock Dancers…Larry and Donna Freiman, Tarzan…Adam Johnson, Singer…Ruthanne Taitano, Chili…Robert (Chili) Hicks, Italian old man on b…Joe Caparella, Harrah's man #1…David Cookson, Harrah's man #2…Bernie Morris, Market Manager…Barry Whipple, Store Clerk…Ali Hayton, Mayor's Wife…. Heidi Hayes, Kurt Cobain…Antonio Bernocco, Young Elvis mother…Rachel Burch, Young Elvis…Oliver Leboe, Pizza Customer…Gabiel Wilkins, Grip…Jason Hubl, Wayne Newton….Tommy Lynd, French Translator…Denise McDougall, Falcon Car Wrangler…Gary McDougall, Older Man…. Nick Papritz, Danya Rae….Church Singer, Blonde Waitres….Erica Gordon, Miss La Conner… Becky Scott Hayes, Gene, the La Gong Show Dancing Machine…..Samuel D. Wright
Extras: Bethany Korsgren, Laure Cosley, Gable Wilkins, Victoria, Bonnie Bernocco, Sandy McCormick, Doug Forchan, Jenna Rudig, Herlin Hayes, Heather Stapleton, Jacob Stapleton, Tommy Stapleton, Don Zeiger "Coyote", Allan Womac, Mary Ann Womac, Judi Paulovic, Rhonda Cookson, William L. Ervin, Nancy E. Beals, Drew Beals, Barbara Bear, Chloe Cunningham, Kathanna Taitane, Charity Jordan, Ashley Gudbranson, Raschelle Gudbranson, Ron Jones, JoAnn Fisher, Dennis McDougal, Gary McDougall, Norma Hayes, Linda Jones, Laurie Cooley, Jessica Cooley, Kyle Cooley, Alexa Cooly, Ethan Lewis
La Connner PD: The Big Elvis File is presented by Kenton Studios