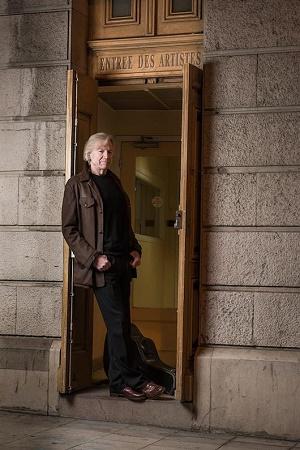 Friday, June 24, 2016 - 7:30pm
Reserved Seating Tickets: 1st Section - $60; 2nd Section - $50; 3rd Section - $40; 4th Section - $30. $2 discount for Lincoln Theatre Members.
The Lincoln Theatre is thrilled present an intimate evening with the legendary voice of The Moody Blues, Justin Hayward. International Guitar Night's Mike Dawes opens the show and fills out the band along with Julie Ragins on keyboards.
 Mike Dawes opens the show!
This spring, Justin Hayward – the iconic singer-songwriter / lead guitarist / composer of The Moody Blues – is proud to present the 2016 Stage Door Tour, which began Wednesday, May 11 in Plymouth, NH and ends on Friday, June 24 at the Historic Lincoln Theatre.
Named for the song Stage Door from Hayward's first solo album Songwriter, this tour represents the significance that music – particularly live music – has had in his life, and the way it has come full circle.
Stage Door has a particular resonance for me as when we were small boys, my brother and I could not afford to go to the shows at the Empire Theatre in Swindon. In fact, we were regularly chased away from the lavish entrance by the fat commissionaire who stood guard there," exclaims Justin. "But we loved the stage door - we saw many artists come and go - and we believed it was the place the real magic entered and left the building. Which of course, it is."
"It is often the one part of the building I actually see nowadays and it has fond memories of joy for me to be lucky enough to be returning, and sometimes foreboding."
Joining Hayward, as they have on previous tours, will be Mike Dawes (guitar) and Julie Ragins (keyboard, background vocals). The set will be a mix of fan favorites, from Justin's solo career and The Moody Blues alike.
As one of the most prolific singer-songwriters in music, Justin Hayward has enjoyed success both within The Moody Blues (which sold over 60 million albums during his near 50-year tenure), and as a solo artist. He has written such important songs as Nights In White Satin, Tuesday Afternoon, Question, The Voice, and Your Wildest Dreams, to name a few. His most recent solo album Spirits Of The Western Sky (Eagle Rock Entertainment) received critical praise, and led to the release of his Spirits…Live – Live At The Buckhead Theatre, Atlanta on DVD, Blu-ray, and CD in 2014.
The Stage Door Tour is an incredible opportunity to experience Hayward in these intimate settings:
"For our gigs, with the sensational Mike Dawes on guitar and the gorgeous and talented Julie Ragins on everything else, I have some brand new songs to mix in, as well as old favourites. There is something there for everyone – I'm sure."
"I have spent most of my life, so far, on the road", says Justin. "Playing live and creating a small piece of magic in a room is like a drug to me, one that I never want to give up". His is a talent that has helped soundtrack more than a generation and created a legacy that remains undimmed.
Seats held for a special JUSTIN HAYWARD VIP MERCHANDISE PACKAGE will be available through Mr. Hayward's website here for $160 that includes:
One reserved ticket in the 1st section
Autographed Justin Hayward Poster
Exclusive T-shirt
Guitar pick tin set