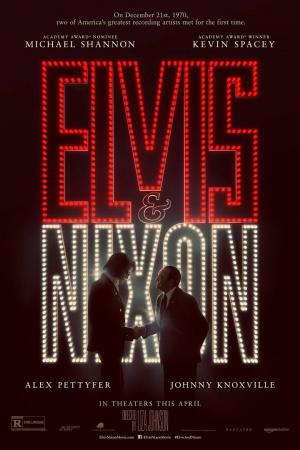 Truth is always stranger than fiction: On a December morning in 1970, the King of Rock 'n Roll, Elvis Presley (Michael Shannon) showed up on the lawn of the White House to request a meeting with the most powerful man in the world, President Nixon (Kevin Spacey). This is the untold true story behind this revealing, yet humorous moment in the Oval Office forever immortalized in the most requested photograph in the National Archives.
 
Starring: Kevin Spacey, Michael Shannon, Johnny Knoxville, Colin Hanks, Alex Pettyfer, and Evan Peters   
 
Directed by: Liza Johnson 
 


What the critics are saying: 
 
Richard Brody
New Yorker
 
The dialogue sparkles with gems of historical allusion and perceptive asides, and the actors virtually sing it; the film plays like a whirling sociopolitical operetta.
 
 
Austin Chronicle
Marjorie Baumgarten 
 
Helping Elvis & Nixon remain in conjectural mode is the fact that neither actor – Michael Shannon as Elvis and Kevin Spacey as Nixon – looks particularly like the character he is playing. Yet both actors make their roles believable through apt choices in body language and vocalization. 
 
Leah Greenblatt
Entertainment Weekly
 
As a surreal slice of history served up nearly half a century later, it feels oddly satisfying: A reminder not just of simpler times, but of all the other wild untold stories we may never know, just because no camera was there to capture them.


Film Prices:
 
General: $10.00 
Seniors, Students and Active Military: $9.00 
Members: $8.00 
Children 12 and under: $7.00 


Sunday Bargain Prices: 
 
General: $8.00 
Members: $6.00 
Children 12 and under: $5.00 
 
Add $2.00 to the above prices for 3D screenings. 
 
Your membership with the Lincoln Theatre saves you $2.00 per film ticket. 
 
*All prices include a $1.50 Preservation Fee that goes directly into our capital account for preservation of the Lincoln Theatre and its programs. 
 
Film tickets are only available at the door beginning 45 minutes before the first screening of the day. This saves you, the ticket buyer the fees associated with purchasing online. Never fear – there are plenty of seats! 
 
Members have benefits! Click here for details.
 
Film dates and times are subject to change and extended runs. Please check back here, or our phone message at 360.336.8955, day of show.