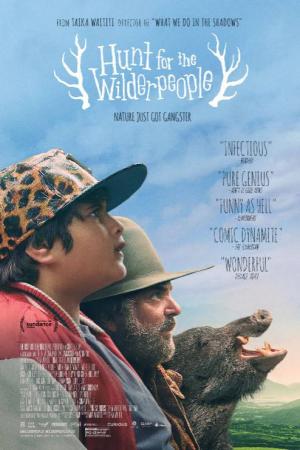 Saturday, Aug 27, 7:30 pm
Raised on hip-hop and foster care, defiant city kid Ricky gets a fresh start in the New Zealand countryside. He quickly finds himself at home with his new foster family: the loving Aunt Bella, the cantankerous Uncle Hec, and dog Tupac. When a tragedy strikes that threatens to ship Ricky to another home, both he and Hec go on the run in the bush. As a national manhunt ensues, the newly branded outlaws must face their options: go out in a blaze of glory or overcome their differences and survive as a family.
 
Starring:  Julian Dennison, Rachel House, Rima Te Wiata, and Sam Neill
 
Director: Taika Waititi
 
At the Wurlitzer:
 
Friday, August 26th  Fred Beeks
Satueday, August 27th   Fred Beeks
Sunday, August 28th   Glen Des Jardins
Monday, August 29th  Harvey Rossiter
 
What the critics say:
Philadelphia Inquirer, Tirdad Derakhshani
 
The photography is lush, the dialogue uproarious, and the crazy action sequences unforgettable. 
Screen International, Tim Grierson
 
Warmly funny and deeply delightful, Hunt For The Wilderpeople is a tale of two misfits told with such generosity of spirit and consistent good humour that it's a pleasant surprise to discover how sneakily touching it is as well.
Los Angeles Times, Kenneth Turan
Every once in a while, a small, unheralded film comes along, so smart and funny, such a pleasure to experience, you can't believe your luck. Hunt for the Wilderpeople is such a film.
 
Wall Street Journal, Joe Morgenstern
Has its share of misfired jokes and pseudo-mythic sequences that semi-fizzle. All in all, though, it's majestical nonsense that is anything but nonsensical.
Film Prices:
 
General: $10.00
Seniors, Students and Active Military: $9.00
Members: $8.00
Children 12 and under: $7.00
 
Sunday Bargain Prices:
 
General: $8.00
Members: $6.00
Children 12 and under: $5.00
Add $2.00 to the above prices for 3D screen
Your membership with the Lincoln Theatre saves you $2.00 per film ticket.
*All prices include a $1.50 Preservation Fee that goes directly into our capital account for preservation of the Lincoln Theatre and its programs. Film tickets are only available at the door beginning 45 minutes before the first screening of the day. This saves you, the ticket buyer the fees associated with purchasing online. Never fear – there are plenty of seats!
 
Members have benefits: Click here http://www.lincolntheatre.org/benefits-membership for details.
 
Film dates and times are subject to change and extended runs. Please check back here, or our phone message at 360.336.8955, day of show.