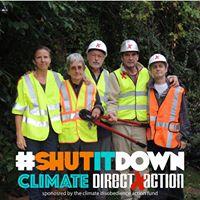 Wednesday, Jan 18, 6:00 pm
Every Life on Earth Depends on Our Collective Willingness to Do the Right Things … Right Now.
 
We are in the greatest Climate Emergency humanity has ever faced. In the absence of political leadership, five PNW citizens felt duty bound to act. Last October, they Shut Down for one day all pipelines carrying Canadian Tar Sands Oil into the United States. Now they face felony charges, up to 95 years in prison, and hundreds of thousand dollars in fines and legal fees. Come hear their stories.
The Tar Sands Valve Turners: Civil Disobedience Today
 
Wednesday January 18 (6PM to 9PM); Lincoln Theatre, 712 S First Street, Mount Vernon, WA
 
Free & Open to the Public
 
More information at www.shutitdown.today
 
This event is presented by Climate Direct Action