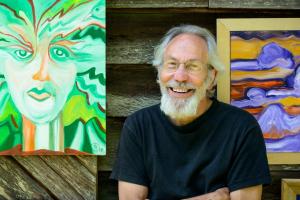 THE DIOBSUD CREEK SERIES: Oil Paintings by Paul Blum
I have been painting in oil now for 9 years, and my work has evolved from paintings of Mt. Baker and the Cascades and mask-like faces to paintings influenced by a weekend with my wife and friends in a cabin near Marblemont along the Diobsud Creek, in the rainforest.  The sunlight shattered by the thick canopy of the Fir and Cedar, the night of wonderful music we all made, and the moonlight all had a lasting affect on me.  I'm really enjoying my new style.
Growing up in Chicago I was exposed to art and history at the Art Institute of Chicago, which led to a life-long love of both.  I have had no formal training in painting, and consider my art to be naïve and primitive expressions of my love of the Pacific Northwest, and of the urges that makes humans create.
After a 40 year rewarding but stressful career in nursing which required control, exactitude, planning and serious attention to detail, painting has allowed me to relax, to experiment freely, to play without restraint, and to step outside of ordinary time.
I can be contacted on Facebook or at zakblum@frontier.com