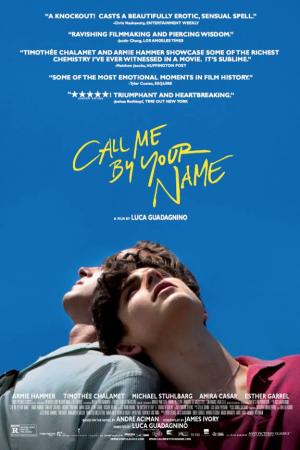 Running Time: 130 minutes
Nominated for 4 Oscars including Best Picture and Best Actor.
Call Me by Your Name, the new film by Luca Guadagnino, is a sensual and transcendent tale of first love, based on the acclaimed novel by André Aciman with a screenplay by James Ivory. It's the summer of 1983 in the north of Italy, and Elio Perlman, a precocious 17-year-old American-Italian, spends his days in his family's 17th century villa transcribing and playing classical music, reading, and flirting with his friend Marzia. Elio enjoys a close relationship with his father, an eminent professor specializing in Greco-Roman culture, and his mother Annella, a translator, who favor him with the fruits of high culture in a setting that overflows with natural delights. While Elio's sophistication and intellectual gifts suggest he is already a fully-fledged adult, there is much that yet remains innocent and unformed about him, particularly about matters of the heart. One day, Oliver, a charming American scholar working on his doctorate, arrives as the annual summer intern tasked with helping Elio's father. Amid the sun-drenched splendor of the setting, Elio and Oliver discover the heady beauty of awakening desire over the course of a summer that will alter their lives forever.
Directed By: Luca Guadagnino
Cast: Armie Hammer, Timothee Chalamet, Michael Stuhlbarg, Amira Casar, Esther Garrel, and Victoire Du Bois.
What the critics are saying:
"Call Me by Your Name offers a melancholy, powerfully affecting portrait of first love, empathetically acted by Timothée Chalamet and Armie Hammer."
Certified Fresh on Rotten Tomatoes
"Call Me By Your Name is a visually stunning coming-of-age story that boasts a star-making performance by Chalamet."
Calvin Wilson, St. Louis Post-Dispatch
"It's no Brokeback Mountain. There's no social, cultural, parental or "public" issue. It's about coming of age, not coming out. The guiltless, ephemeral exhilaration. It's an unforgettable, virtuoso achievement by Mr. Guadagnino."
Barry Paris, Pittsburgh Post-Gazette
Film Prices:
Lincoln Theatre Members get a $2 discount on the following prices:
General: $10.50
Seniors, Students and Active Military: $9.50
Children 12 and under: $8.00
Sunday Bargain Prices:
General: $9.00
Children 12 and under: $7.50
Add $2.00 to the above prices for 3D screenings
All prices include a $1.50 Preservation Fee that goes directly into our capital account for preservation of the Lincoln Theatre and its programs. 
 
Members have benefits: Click here for details.
 
Film dates and times are subject to change and extended runs. Please check back here, or our phone message at 360.336.8955, day of show.